Why you should visit Sri Lanka
Sri Lanka has become very popular amongst tourists, especially from India. Since, Sri Lanka has so much to offer to its tourists. It has variety of sightseeing to cater to almost all travel needs of tourists, be it beaches, history, adventure, wildlife etc. Sri Lanka offers tourism opportunities for every kind of traveler. Apart from the best places to visit in Sri Lanka in 5 days, it offers immense opportunities for shopping and for food lovers.
Home to 8 UNESCO World Heritage Sites, Sri Lanka is truly a place that should not be missed. Nestled in the Indian Ocean, this island country Sri Lanka has a history that dates back to the birth of time. A place where Buddhism is still alive and where Nature remains abundant and untouched. Sri Lanka is amongst those few places in this world which offers travellers a spectacular combination of picturesque landscapes, beaches cultural heritage and most memorable experiences of life. Go through our Sri Lanka itinerary 5 days to get full details of the tour.
Weather in Sri Lanka
The climate of Sri Lanka is tropical and warm.
Best time to visit Sri Lanka
December to March – visit south coast, west coast and the Hill Country.
April to September – explore the east coast and ancient cities.
International Airport in Sri Lanka
Colombo International Airport which is also known as Bandaranaike International Airport is the primary Airport operating in Sri Lanka.
Religion in Sri Lanka
The population of Sri Lanka comprises of varied religions. 70% of Sri Lankans are Buddhists, 15 are Hindus, 7.5 are Muslims and 7.5 are Christians.
Currency of Sri Lanka
LKR – Sri Lankan Rupee is the currency of Sri Lanka.
Language spoken in Sri Lanka
Mother language of Sri Lanka is Sinhala and Tamil. But English is also widely spoken and well-understood by its population.
Food available in Sri Lanka
When it comes to food, Sri Lanka has so much similarity with South India as staple food of Sri Lanka is rice and curry. Kottu (Kothu) is a kind of Roti which is a must try in Sri Lanka. Sri Lanka is famous for its spicy food. You can also try String Hoppers, Pittu and Kiribath. You will find KFC, Pizza Hut like Fast-food outlets in major cities.
What to buy in Sri Lanka
You can buy a lot of things from Sri Lanka. The most famous are:
Jewellery and Gems. Particularly Sapphires and moonstones.
Handwoven items.
Buddha and Elephant statues.
Ayurvedic beauty products.
Spices.
Tea, particularly Ceylon tea.
Hotels in Sri Lanka
Talking about hotels in Sri Lanka, tourists have choices to choose from 3 star, 4 star, 5 star categories as per their budgets. We will be advising options below in the itinerary city wise. However, if we talk about hotels near Colombo airport then the best options are:
ME Colombo, Ramada, the Gateway Hotel, Amagi Aria, Grandeeza, Jetwing Lagoon etc.
Useful Link : Best Singapore Malaysia tour package with cruise
Places to visit in Sri Lanka in 5 days/Sri Lanka itinerary 5 days
Considering 4 nights/5 days itinerary of Sri Lanka, the ideal places to cover will be:
1 Night in Kandy – 1 Night in Nuwara Eliya – 1 Night Bentota – 1 Night Colombo
Day 01: Arrival at Colombo international airport –drive to Kandy (103 Kms/3-4 hours)
Kandy is a cultural capital of Sri Lanka and has been declared as UNESCO World Heritage Site.
Best things to do in Kandy
The Temple of the Tooth, Bogambara Lake, Pinnawala Elephant Orphanage, Royal Botanical Garden, Bahirawakanda Temple, New Ranweli Spice Garden, and The Tea Museum.
Activities you can do: Elephant riding, trekking, jungle safari, nature walk etc.
Overnight in Kandy (Amaya Hills/Earl's Regent or similar)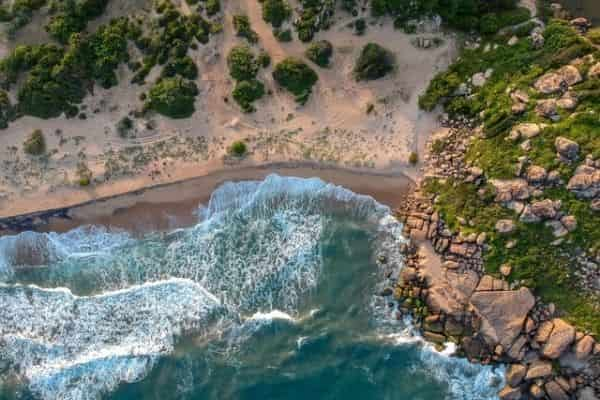 Day 02: Kandy – Nuwara Eliya (76 Kms/2 Hours)
Nuwara Eliya, where you can explore the oldest tea estates of Sri Lanka. A paradise for the tea-lovers.
Best things to do in Nuwara Eliya
Tea plantations, Hakgala Botanical Garden, St. Clairs Fall, Devon Falls, Galway's Land National Park, and Nuwara Eliya Golf Club.
Activities you can do: Cycling, tea garden visit, tea tasting tours, golfing, and trekking.
Overnight in Nuwara Eliya (Galway Heights/Araliya Green Hills or similar)
Day 03: Nuwara Eliya – Bentota (211 Kms/5-6 Hours)
Places to visit in Sri Lanka in 5 days : Bentota beach is one of stunning swimming beaches in Srilanka. This beach is specified by the significant width of sand within sea and land nevertheless Bentota beach will be getting little narrow during the off season April to October as it same to the other south coast beach but certainly a paradise of swimming thought out.
Best things to do in Bentota:
In bentota beach, people can enjoy every kind of water sports like surfing, jet skiing, banana boats, snorkelling, scuba diving.
Bentota offers another interesting event of boating miles up to the near river to watch water plants, birds, small scale fishing methods and animals like crocodile on river bank.
Activities you can do: Water sports, relax at beach, food, shopping etc.
Overnight in Bentota (Centara Ceysands Resort/Lagoon or similar)
Day 04: Bentota – Colombo (60 Kms/2 Hours)
Colombo is the capital of Sri Lanka, one of the most beautiful places to visit. The commercial and financial capital of Sri Lanka is this cosmopolitan city. As Colombo has been ruled by British, Portuguese and Dutch in different times, you will find an amazing blend of these cultures.
Tourist attraction in Colombo
Visit Dehiwala zoo, Gangramaya Temple, Galle Face Green and Beira Lake.
Activities you can do: You can go for beach hopping, a visit to museum or heritage walk. Don't forget to go for Shopping in Sri Lanka.
Overnight in Colombo (Kingsbury/Cinnamon Grand or similar)
Other famous places in Sri Lanka that can be an add on in your itinerary
Singharaja Rain Forest, Srilanka – places to visit in Sri Lanka in 5 days
Sinharaja rain forest known to be a Tropical Wet Evergreen Rain Forest according to the international naming system and it is a paradise of the biodiversity with high degree endemism of flora hugely distribute in each parts of the forest area and Sinharaja forest represent 13 of 25 endemic genera to Sri Lanka .
The forest lies on parts of both Sabaragamuwa and southern provinces with 88.64 km2 area, heights of the trees will vary between 30m-40m but vegetation density of the considering unit area is awfully high than any other forests in Srilanka because the forest comprises two apparent layers of vegetation common for every parts, then it increased the density. Mammals in Sinharaja cannot be seen such easy as generally see in other National parks like Yala, Wilpattu, Udawalawa, Wasgamuwa etc. because of this high density of vegetation.
There's only 3 elephants, about 15 leopards occasionally catch the sight but Sinharaja has its own range of mammals, reptiles, birds, amphibians, butterflies, fish in high degree endemism over 50% of total in Srilanka. The animals find insides are Sambhur deer, Barking deer, Monk deer, Golden Palm Civet, Purple faced Monkey, mongoose. Reptiles as Green Pit Viper, Hump-nosed Viper and Birds like Red-faced Malkoha, Green billed Coucalm, Ashy headed Barbbler, Magpie.
The most impressive thing to visit Sinharaja is its latent darkness among vegetation, silent braking occasional sounds of birds, other animals and water sounds of quiescently streaming affluent channels, amazing feeling like among the center of Amazon forest. Considering all the significances Sinharaja became a World Heritage Site by UNESCO in 1988.
Hikkaduwa Beach Sri Lanka – places to visit in sri lanka in 5 days / Sri Lanka itinerary 5 days
Beach Hikkaduwa where the World renowned coral reef destination in Srilanka located on south coast and 98km away from the main city Colombo. It makes a gorgeous felling by spend even a single day in Hikkaduwa because of many reasons but one thing to be special that only marine life sanctuary in Srilanka, number of people visits to spend holidays at white sandy coast.
Hikkaduwa coral reef sanctuary is a stunning marine sanctuary in Asia contains rainbow color corals in number of forms that are seems shining over bright sun shine through light blue water and fish population is quite phenomenal for each part of the coral reef, their body shapes and colors has been structured truly impressive according to the shapes and colors of the corals.
Facilities to approach this beauty is no longer problem, Glass deck boats will carry people who don't have an ability to dive and people who seek to approach that beauty by them self there are the equipments of snorkeling and scuba diving also assistance of diving instructions very common now around Hikkaduwa.
Hikkaduwa is one of the places where seriously hit by the Boxing Day tsunami in 2004 and that waves damaged some parts of the coral reef but it has a natural protection of lime reef running a parallel to the beach next to coral reef it protect also from high tide. Cluster of hotels available in every star level.
Wasgamuwa National Park, Sri Lanka
Wasgamuwa is another major attraction eco wild life National park in srilanka locate connecting the both northern central and central provinces in dry zone and 220 Km away from the main city Colombo, its daily temperature maintains over 28 °C and having the 1900mm average annual rainfall.
The national park officially declared as a National park in 1984 dominantly to produce habitats for the animals displaced by the major national irrigation project Mahaweli, from there on Wasgamuwa is well reputed for the place can see many interesting wild amimals such close to visitors an it reports 23 species of mammals find inside, mostly groups of wild elephants and also Sloth Bear, Sri Lankan Axis Deer, Mugger Crocodile, Water monitor, Purple-faced Langur, leopards, Golden Palm Civet etc. can watch.
This national park derived its name Wasgamuwa from the old rurally pronounced name 'Walasgamuwa' it means 'jungle of the sloth bears' .Like many other National parks in Srilanka Wasgamuwa also a sanctuary of birds can meet 143 bird species including Peafowl, Jungle fowl, Black-headed Ibis, Sri Lanka Spur fowl, Lesser Adjutant, Painted Stork, Eurasian Spoonbill are few of those, one another major attraction spot of national park is 'white mountain' has elevation of 470 meters height.
Udawalawa National park – places to visit in Sri Lanka in 5 days
Udawalawa national park establish on 30th June 1972 to procure habitats for the animals displaced by the Udawalawa reservoir project, this park reports 3rd most visited wild life national park in Srilanka and 167 Km's away from the main city Colombo lays on the border of the Sabaragamuwa and Uva provinces which includes to both wet and dry zone. The territory extends to 30,821 hectares of area and having 1500 millimetres rainfall annually.
Udawalawa national park reputed as big game Park than any other national park irrespective to the size of area, it's reported about 400 elephant with tuskers not rear to see many elephant activities such as feeding, bathing, playing, fighting and moving as clusters and individually as well, not only for the elephant many other species of mammals can witness such as Srilankan sloth bear, Srilankan sambur deer's, Srilankan axis deer's, rusty spotted cats, wild boar, water buffalos, occasionally leopards, Tufted grey langur etc. and bird species like jungle fowl, red faced malkoha , spur fowl, Spot-billed Pelican, Sri Lanka Grey Hornbill, Black-capped Kingfisher etc. and many other species of birds can watch inside the Udawalawa.
Kumana National park (Kumana bird sanctuary), Sri Lanka
Sri Lanka sightseeing
Kumana National park known for its name Kumana bird sanctuary and eco tourism actraction place because of highest birds species arrive annually on spend hard seasons away from their home countries. If Kumana concern on its own measurements this is exactly a adjoining part of Yala national park located on south east part of the Yala in southern cost .
The park covers up to 18,149 hectares from full block of Yala national park and has 200 hectare covered 'kumanavillu' natural tank feed by the kumbukkanoya reservoir. 255 recorded number of bird species and during the April to August thousands of migrant birds visit kumana swamp annually some birds fly over 10000 thousand miles to kumana sanctuary.
Few of bird species are waterfowl, Pintail Snipes, Purple Heron, Watercock, Little Cormorant, Lesser Whistling Duck, Ruddy Turnstone etc. best time to visit in migrant period.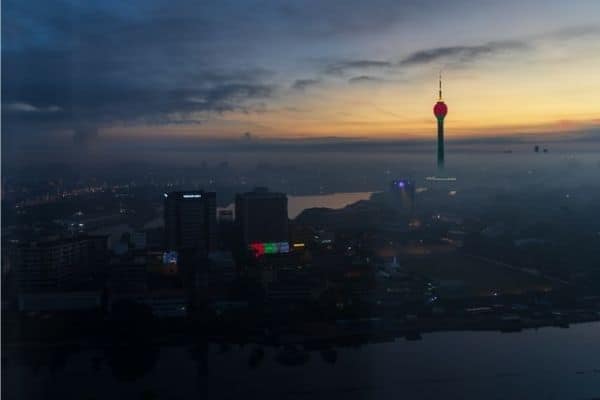 Wilpattu National Park- places to visit in Sri Lanka in 5 days
Wilpattu national park known to be the oldest and largest national park in Srilanka which covered 425 sq Km and 131,693 hectares territory on north western province of Srilanka and it is 180km away from the Colombo main city and just 30km away from Ancient Aanuradhapura , western edge of Wilpattu national park is limited by Indian Ocean and Kala Oya of its southern end.
Wilpattu National park has a significant distribution of fauna and flora that reported 31 species of mammals and endemic plants to the low level dry zone. Nowadays its living mammals has been identified as threatened species, thousands of tourist regularly visit to see upon its animal movements of Leopards, Elephants, Sloth bear, mongoose, Sambhur, spotted deer etc. Wilpattu national park also known as a paradise for many bird species such as Whistling teal, Purple heron, White ibis, painted stork, , little cormorant, Jungle fowl and right time to visit Wilpattu reports February to October. Wilpattu National Park is one of the best Places to visit in Sri Lanka in 5 days.
Mt. Lavinia Beach Srilanka – Sri Lanka sightseeing
Mt. Lavinia Beach is another stunning tourist attractive beach of Srilanka on 12 kilometers south to main Colombo city and it's known to be the best swimming beach closest to Colombo. Mt. Lavinia beach is about 40 kilometers way form Katunayake Bandaranayake International airport and is comparatively wide along the stretch of west sandy coast, many star class hotels available behind the golden sandy coast and Bars, pubs also available to enjoy.
Night life of Mt. Lavinia is quite impressive that is more preferred by foreigners with regular beach parties, music and dance. The beach still has a colonial value with famous Mt. Lavinia Hotel which was the early house of former Ceylon Governor Sir. Thomous Maitland in 1805 but subsequently developed as the Hotel.
Negombo Beach Srilanka – Places to visit in Sri Lanka in 5 days
Negombo Beach is an attractive place of tourists stop few days on their way to departure at Katunayake or on the way to starting their routes from Katunayaka because it is just 7 km away from Katunayake Bandaranayake international airport. Considering the activities to be done here at Negombo beach for the foreigners are range of water sports like surfing, wake surfing, jet skiing, banana boats, diving, snorkeling, scuba diving boat safaris up to the rivers, fishing experience arrange by the fishing boats, dolphin and whale watching etc.
Negonbo Sea has some coral reefs preserved by the conservation projects and over 50 years old shipwrecked can reach by the divers. Foreigners find no inconvenience of searching for hotels because malty range luxury hotels are reside behind along the stretch of golden sandy coast.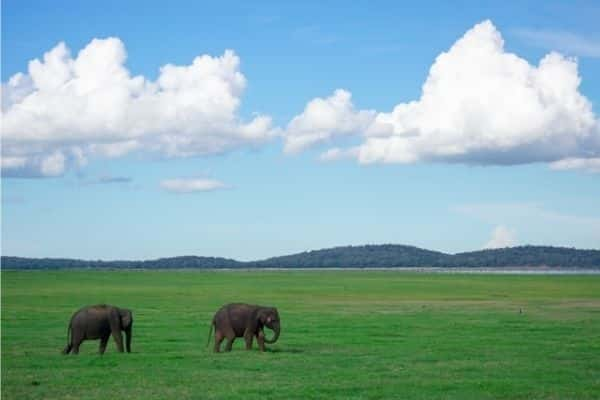 Galle City and Beach – Sightseeing in Sri Lanka
Galle is one of the two main cities in southern province reside just behind the southern coast facing to the Indian Ocean and 119km away from the main city Colombo. Galle beach is such fantastic light blue water and white sandy beach in Srilanka has neap depth up to 100m can swim freely throughout the whole day with warm blue water as same to all other Srilankan beaches.
Galle is a famous city upon its ancient value of Old Dutch fort right in front of new city behind Indian Ocean and it running back to 16th and 17th century designed with classical Portuguese and Dutch architectural context still stand along as true giant in front of Galle city as he has done his job over massive waves of boxing day tsunami in 2004.
Galle coastal line thrived in modern facilities, cluster of luxury hotels, arrive modern equipments to expand the water sports facilities under government plans of upgrading Srilankan tourism after ethnic war, arrange dolphin and whale watching packages for affordable prices etc.
Beruwala Beach Sri Lanka – Sri Lanka itinerary 5 days
Beruwala is the beginning part of the south costal tourist attraction chain. But it is located on southern stretch of the west coast, 60 kilometers south to main city Colombo and 88 kilometers away from the Katunayake Bandaranayake International airport. Beruwala records where the first Muslim settlement area in Srilankan and arrived many traders from Middle East countries. They have been the serious business makers to Ceylon, those businesses done with many Ceylon product like spices, gems, ivory, elephants etc. so Kechimalai Mosque is still telling those memories .
Beruwals beach locate just few kilometers north to famous tourist costal destination Benthota. With no difference is maintaining the same attraction, water sports like windsurfing, jet skiing, snorkeling, scuba diving, banana boats, many star class hotels, beach parties etc. available regularly in Beruwala beach. Another reason to visit Beruwala is Beruwala harbor. This is the place where fisherman's unload their harvest and put them into auction will really impressive to watch how they manage tunas, sharks and manta ray one place to another.
Conclusion – Places to visit in Sri Lanka in 5 days
As already said above, Sri Lanka is a tourist place which is not to be missed. It has everything to offer to its tourist. Above mentioned are the best places to visit there. After going through the details, you can choose and design itinerary of your interest. We would personally recommend you to plan for at least a week to enjoy major attractions of Sri Lanka.
Useful Links