Majestic Malaysia – Best time to visit Malaysia
Places to visit in Malaysia in 3 days: Malaysia is one of the most beautiful and prominent tourist attractions in South East Asia. It is one of the biggest searched tour package over the internet. Malaysia receives a large number of tourists every year for its diversity. The capital of Malaysia is Kuala Lumpur and there are numerous tourist places to visit in Kuala Lumpur in night and day time.

Malaysia offers everything that you can think of – beautiful islands, night life, Theme Parks, Local markets for shopping, Batu Caves, Twin Towers and so on. For example: Petronas Twin Tower – one of the major tourist places to visit in Kuala Lumpur in night for an amazing view.
Let's talk about Malaysia Famous Things: – Places to visit in Malaysia in 3 days
Malaysia famous things : Places to Visit In Malaysia With Family
Food delicacy
For all foodies, Malaysia offers awesome tasty cuisine. You can get all kind of cuisine and tastes like Indian, Chinese, Thai, and Malay. Roti canai which is bread eaten with a spicy curry is must try food in Malaysia.
Petronas Twin Towers At Night
The Petronas Twin Towers doesn't need an introduction and these twin towers remains on priority in the sightseeing list of Malaysia. For an amazing and lifetime view, cross the connecting bridge between these two towers at night. This comes under major Malaysia famous things.
Scuba Diving
For adventure seekers and water sports lovers, Malaysia offers great opportunities for scuba diving and snorkeling. Add this in your list of activities for a lifetime experience and memory.
Streets of Malacca city
Located in South Western Malaysia, Malacca offers some awesome opportunities to explore antique shops, night markets on Jonker Street, enjoy a trishaw ride. You can hire a bicycle to explore the city. One of Malaysia famous things to do.
Useful Link : BALI SOJOURN – Best Time To Visit Bali From India
Best time to visit Malaysia- Places to visit in Malaysia in 3 days
The best time to visit Malaysia is between March & October. After the rainy season, weather doesn't remain too much humid, thus, that is the best time to visit Malaysia. However, seasons vary for different parts of the country.

For example, famous islands, Penang and Langkawi are better enjoyed between the months of December and February. Likewise, if you are someone who would like to enjoy flora and fauna of Malaysia, then travelling between the months of March till October, will be the best option.
How to reach Malaysia
Malaysia is best reached by air travel. KL International airport offers direct flight connectivity with the main cities around the world. Other popular airlines are Singapore airlines, Air Asia, Pacific airlines.
If you are combining your Malaysia trip with Singapore or Thailand, then please note there are great train services that runs daily to and from Malaysia.
For Shopping lovers – what to buy in Malaysia
Malaysia is shopper's paradise. Some great places of Malaysia offers great opportunities for shopping. The major places for shopping in Malaysia are:
Kuala Lumpur:
For designer clothes, you can hit KLCC or to try the local stalls, you can explore Bukit Bintang Area. You can also find some good options of night markets there as well.
Penang:
There are few best malls for shopping in Penang – Gurney Paragon, Queensbay and Straits Quay Marina Mall. If you want to enjoy best places to visit in Malaysia in 3 days then do not miss shopping malls in Malaysia. You can have some good deal and quality product for your family members at home.
Malacaa
The famous Jonker streets for night markets is the hub for shopping in Malacca. The street offers incredible collection of local items to suit all tastes.
Langkawi Islands
Duty free shopping for tourists – chocolates, clothes, alcohol, cosmetics and other souvenirs.
What to buy in Malaysia?
Best places to visit in Malaysia – Malaysia city tour
Kuala Lumpur, capital of Malaysia – Places to visit in Malaysia in 3 days
The capital city of Kuala Lumpur is a must visit place in Malaysia city tour. Being a multicultural city comprising of Indian, Chinese and Malay population, it offers diversity to its tourists in all segments be it cuisines, shopping, festivals, events or other tourist attractions. The best places to visit in Kuala Lumpur at night and day are:
Petronas Towers:
Petronas Twin Towers is one of the best places to visit in Kuala Lumpur at night specifically for a spectacular view. This is world's tallest twin towers comprising of 88 storey. It is located at KL City centre. An Islamic inspired architecture that is house to Petronas Company and other offices.
Batu Caves
Located at a distance of 11 Kms north of Kuala Lumpur, Batu caves is 400 million year old limestone hill. A famous tourist spot for Hindus as the caves has a 100 year old temple and every year there is a festival to which thousands of devotees come to offer prayers.
Menara KL Tower
The Menara KL Tower in Kuala Lumpur is an iconic tower with height of 421 metres. The tower is used for broadcasting and telecommunication. There is an observation deck inside it which offers views of the entire city of Kuala Lumpur. Ranked as fourth highest tower in the world for telecommunication.
Sunway Lagoon Theme Park
The Sunway Lagoon Theme Park is one of the best places to visit in Kuala Lumpur located in Petaling Jaya. The park spreads on an area of around 88 acres and is divided into 5 zones- Water Park, Wildlife Park, Extreme Park, Amusement Park, and Scream Park. You can spend a whole day inside the park.
Aquaria KLCC
A Malaysia city tour offers you a chance to visit the largest aquarium of the world. The aquarium has more than 5000 marine creatures, including garfishes, giant groupers, seahorses, lethal sea snakes, and many more. This is again one of the best places to visit in Kuala Lumpur at night or day.
Jalan Alor
A place to relish city's local cuisine. It is located behind Jalan Bukit Bintang. You can get variety of food – Chinese, seafood, barbeque etc.
Central Market
One of the best places to visit in Kuala Lumpur at night as this is famous for night market known as Pasar Seni. You can buy everything here that is famous in Malaysia.
Hotels to stay in Kuala Lumpur: Grand Hyatt, Hilton, Traders hotel, Sunway Putra, Mandarin, Shangri-La etc.
Langkawi : Places to visit in Malaysia in 3 days
The island of Langkawi has become very popular among the tourists to enjoy the nightlife and activities like water sports such as scuba diving, snorkeling, parasailing, and banana boat rides. For a panoramic view of the island, go on the top of its mountains and just click the lifetime memories. Langkawi island is perfect to enjoy the cool breezes, shopping, and delicious cuisines specially sea food.
Hotels to stay in Langkawi: The Danna Langkawi, Pelangi beach resort and spa, The Andaman.
Penang, George Town – Places to visit in Malaysia with family
Penang is one of the finest islands of Malaysia that is a must visit in your Malaysia itinerary. Situated in Penang Island, George Town is an amazing city that has been declared as UNESCO World Heritage site. The city is best known for its incredible skyscrapers, museums, colonial buildings, seaside fort and waterfront village. It is also home to other tourist spots that you must explore.
Hotels to stay in Penang: Sunway hotel Georgetown, Jen Penang George Town by Shangri-La, Travelodge, SAVV, The Edison etc.
Malacca – Best places to visit in Malaysia
Malacca is 2 hours from Kuala Lumpur and is best known for its historical buildings. During evening, its street turns into vibrant night markets. It is the best place to visit for architecture lovers. The famous spots of Malacca are Melaka Sultanate Palace, Melaka Menara Taming Sari, A'Famosa, Jonker Walk, etc. You can also enjoy a trishaw ride in Malacca to explore its various spots.
Hotels to stay in Malacca: Holiday Inn, Double tree by Hilton, The Pines, Rosa Malacca, Hatten hotel etc.
Kota Kinabalu : Places to visit in Malaysia in 3 days
Kota Kinabalu is another beautiful coastal city of Malaysia that must be visited for its tourist attractions. It has many sightseeing spots including Lok Kawi Wildlife Park, Manukan Island Resort, Handicraft market, river cruise, Mount Kinabalu, Kota Kinabalu City Mosque, Mamutik Island, etc.
Hotels to stay in Kota Kinabalu: Hilton, Shangri-La's Tajung Aru, Hyatt Regency, Le Meridian, Hotel Grandis etc.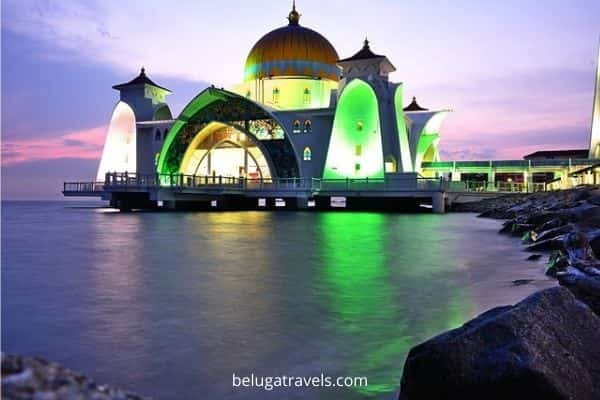 Tioman Island
Located on the east coast of Malaysia, Pulau Tioman is one of the smallest islands yet most beautiful. Tourists who visit this island always tag it as one of the most beautiful places to visit in Malaysia in 3 days. The dense forests that are abundant in nature and scenery and pristine blue water are the main highlights to visit this island. This is truly a paradise on earth.
Hotels to stay in Tioman: Melina beach resort, The Barat, Tunamaya Beach Resort, Paya Beach resort etc.
LEGOLAND Malaysia Resort
Want to experience a time that is full of imagination? The first international theme park in Malaysia & the first LEGOLAND theme park in Asia – yes that's LEGOLAND Malaysia Resort. The area is full of attractions especially if you are visiting it with kids. There are all kind of interesting activities for adults and kids to fall in love with. You can enjoy various rides, shows, slides and multiple other attractions.
The water park inside the area has more than 20 tubes and slides and over 70 LEGO models. How about an underwater experience with more than 13,000 marine creatures from 11 habitat zones. Isn't this must visit place in Malaysia?
Conclusion – places to visit in Malaysia in 3 days
Whether you are planning to visit Malaysia for the first time or yet another time, Malaysia has so much to offer. Each place recommended above is a must visit. Malaysia is truly a traveller's paradise – whether you are on your honeymoon, with friends or family.
Also, Malaysia has most budget friendly accommodation to top class ones to suit needs of all. Indians, being little worried about getting Indian meals, will never regret their decision to visit Malaysia. I would strongly recommend to visit this most beautiful country of South East Asia.