Introduction to Varanasi Travel Blog
In India no travel blog is complete if it does not have Varanasi travel blog. Varanasi is believed to have completed an exciting 3000 years of human habitation. Varanasi is one of the oldest cities in the world. With its spirituality, religious value Varanasi has remained India's holiest place. Today I will take you through some most important places to visit in Benaras.
Why Varanasi Travel Blog is important?
Hindus, Buddhists and Jains consider Varanasi as a holy place. Each year you can see millions of tourists visiting Varanasi / Benaras.
With this reputation to live up to, Varanasi holds many essential religious and cultural celebrations and has been noted as a main religious and cultural center in northern India for many years. The people of Varanasi are held close together, weaving a tightly knitted community welcoming all to take part in it.
Varanasi has remained a place of musicians, artists, writers, poets and a place of learned people. You can feel it by talking a walk down the city streets. Many people find themselves in an entirely different state of mind after visiting Varanasi, and cannot describe the spiritual connections they've felt after seeing Sarnath; the place Gautama Budhha gave his first ever sermon. Bearas / Varanasi travel blog is important to bring up its glorious history to people.
Education in Varanasi : Varanasi Travel Blog
Education is another important aspect of Varanasi. And because of the unity of teaching, religion and beauty, Varanasi is often called "the city of learning", "the holy city of India", and of course, "the city of lights." Because of Varanasi's important role in Indian culture, education and religious aspect, Varanasi travel blog is inevitable. Travel to Varanasi, and surround yourself with this family oriented city, brimming with deep cultural roots and touching motivational stories.
Places to Visit in Varanasi : Varanasi Travel Blog
There is no dearth of places to visit in Varanasi. I am presenting here some important places to visit in Varanasi. Without them Varanasi tour remains incomplete.
Varanasi Durga Temple / Monkey Temple
In the 18th century Durga Temple was built and dedicated to Goddess Durga to honour Her. The red colour temple building stands out with its reputation matching with Varanasi city.
Local people also call the temple as 'monkey temple'. You will find lots of monkeys around the temple. Local sayings are these monkeys guard the Temple. Presence of large number of monkeys around the temple has created curiosity in tourists over time.
One of the most mysterious aspects that brought the Durga Temple to its famed position is the legend of how the Goddess Durga statue representing the temple came to exist. Many legends and stories state that the replica of Goddess Durga appeared by itself in the temple. Not created by anyone, but eerily coming into existence on its own. Enjoy the thrill of the mystical vibe emitting from the Durga Temple.
Famous Ghats in Varanasi
Ghats in Benaras / Varanasi is always crowded with devotees and tourists from all over the world. These ghats are believed to be most sacred places of the city. They are all blessed places and meant to give of peace of mind.
You can witness life and death at the same place. Physical and Spritual healing powers of these ghats are very strong. In any evening or morning sit at any of the ghats and make yourself calm. You will find true yourself inside you. You can feel meaning of your life here. Spirituality has such great power.
In the evening you can enjoy Sandhya Aarti (Evening Rituals) at Ghats, it will be once in a lifetime experience for you. Trust me you may fall in love with the place.
In my opinion Ghats in Varanasi get the largest numbers of footfalls comparing all other tourist places in India. Take a holy dip in river Ganga and embrace a new life. A life devoted to humanity. A life full of joy and love. River Ganga will wash away all your sins.
Assi Ghat Varanasi, India
Varanasi is famous for its Ghats. To my belief and experience, Assi Ghat is the most talked about and favourite among tourists visiting Varanasi. Millions of tourists and devotees visit this Holi city each year and everybody visits Assi Ghat. Reasons are there behind this.
According to Hindu mythology, after killing demons Shumbha-Nishumbha Goddes Durga threw Her sword away. A river emerged in the place where the sword landed and the river was named Assi. In mythology another story is present about the Assi river. It says Lord Rudra (another name of Lord Siva) angry with the Asuras, killed 80 of them in rage. As this incident took place at tis place it got the name Assi.
After killing the Asurans Lord Shiva repented of his act and decided to give up all forms of violence and vowed to make Varanasi a place of non-violence.
Assi Ghat is the place where Holy Ganga and Assi river meet. Devotees believe that taking a dip at Assi Ghat is equivalent to thousands of bath at other holy rivers. You will find on some occasions like Probodhoni Ekadashi, Makar Sankranti and Lunar or Solar eclipse thousands of devotees taking a dip here. At the Ghat you will find the Shivalinga (Shivlinga / Shivling) under a peepal tree. Offer some holy water from Ganga to the Shivalinga after taking a dip in the river.
People visit Varanasi for a holy dip at Ganga in the belief that it will bring them peace and prosperity. Some people visit to submerge them into the enchanting surroundings of the Holy city. If you wish to take a walk around the ghats, it is best to go in the early morning. You can see morning aarti (Subeh Benaras).
Varanasi being one of the holiest and oldest cities in India has many important aspects as well as tourist attractions. Apart from Assi Ghat you can visit :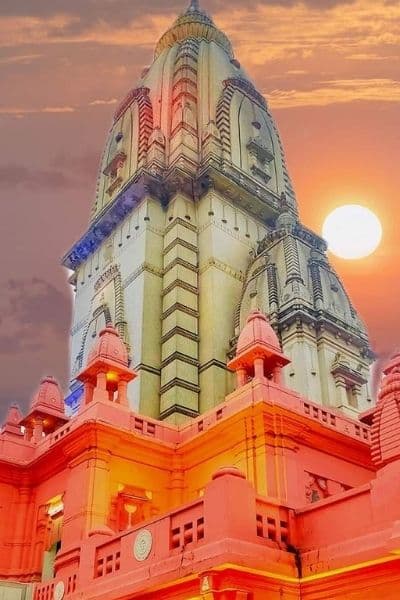 Must visit places in Varanasi:
Man Mandir ghat
Alamgir Masjid
Manikarnika Ghat
Dashashwamedh ghat
Kashi Vishwanath Temple
Sarnath
Dashashwamedh Ghat, Varanasi
To perform Ashwamedha Yajna, Lord Brahma had sacrificed 10 horses (das aswa) to welcome Lord Shiva and the name came from there. In 1740 AD Bajirao Peshwa constructed this Ghat. Queen of Indore Ahilyabai Holkar reconstructed this Ghat in 1774 AD.
At Dashashwamedh Ghat you can see the Sandhya Aarti every evening. The saffron robed Pandits chanting Hinu Mantras creates a different view altogether. The lighting, smell of incense sticks and the holy ambience of spirituality makes it an out of the World experience.
Manikarnika Ghat : Local sightseeing in Varanasi
Manikarnika Ghat is one of the holiest place in Varanasi. Devi Shakti / Goddess Sati immolated herself here and Lord Siva could not bear this and immersed in sorrow. Lord Vishnu could not see Lord Shiva's sufferings and sadness and sent his Chakra to which cut Devi Shakti's body into 51 pieces. As per Hindu mythology Devi Sakti's earring fell in this place when Lord Vishnu's Chakra divided Sati's body into 51 pieces.
It is believed that if someone is cremated here, he attains Moksh / Salvation immediately. You will witness hundreds of dead bodies burning at this ghat. This sightings will make you realize you came here empty hand and will go so. Nothing is meaningful on this Earth but your act. That is what people remember you for. Manikarnika Ghat has such divine power!
Gyan Kupor Well : Places to visit in Benaras
The Gyan Kupor Well also called Well of Knowledge or Wisdom. It is said that you gain wisdom, inspiration and higher spirituality by drinking water from this well.
It is said that rare artifacts were kept hidden in this well to protect them from thieves. I will suggest you to give a visit and learn more from the locals that will be more interesting about this divine well.
Jantar Mantar : Varanasi city tour
Jai Sing, Maharaja of Jaipur and avid lover of science and technology created this observatory in 1737. He was curious and loved to explore astronomy. He thought of sharing these amazing things with people, hence this observatory was established.
You can enjoy shows here and learn about planets alignments, how to measure local time, about stars and much more. Jantar Mantar has been a great astronomical learning place and loved by tourists.
Kashi Vishwanath Temple – Varanasi travel blog : Places to visit in Benaras
Known as the Golden Temple of Varanasi, Kashi Viswanath Temple sees most devotees in Varanasi. One of the most popular temple among tourist attractions, Kashi Viswanath Temple is dedicated to Lord Shiva, Lord of the World.
On the bank of Holi Ganga Kashi Viswanath temple is said to be looking over the city. Main attraction of this temple is the Jyotirlinga of Lord Shiva. A popular myth and belief among Hindu devotees that, a view of the sacred Jyotirlinga opens up the eye of wisdom.
It creates a strong pillar of confidence, divinity, self reliance and soul cleansing experience inside you. Give a visit to Kashi Viswanath temple to get enlightened with blessings of Lord Shiva.
Ramnagar Fort and Museum : Places to visit in Benaras
Ramnagar Fort is located nearly 10 km from Varanasi. The red stone master piece was constructed in the 17th century. You will find similarity with the other renowned constructions of that era. You will find a museum and a temple inside the complex. Give them a visit. The museum has assortment of vintage cars, palanquins, ivory work. Also you can see old guns, swords and antique clocks that belong to royal families of that time.
The astronomical clock is an unique piece in the fort. It shows stars, planets, sun and moon along with time. Old elephant saddles, jewellery and silk costumes are also worth a mention.
There is a local saying that Ved Vyasa himself stayed here for a brief period. Surely you will enjoy the age old monument and its own serine environment.
The Ramnagar Fort is one of the most sought after tourist attractions in Varanasi. You can visit the fort any day from 10 am to 5 pm.
Sarnath : Varanasi travel blog
If we are talking about places to visit in Benaras, Sarnath can not be left out. Lord Buddha had presented his first sermon where the Sarnath Temple is standing today. In Varanasi, Sarnath is one of the most respected and appreciated place.
The striking and inspiring remnants of a massive collection of monuments still remain in all their glory, embracing a serene and peaceful atmosphere and ambience. There is also a park surrounding the wonderful Sarnath, which contains an actual tooth relic of Buddha himself!
The relaxing and spiritual surroundings are sure to touch your spirit, and have changed the way many observe life in general.
Dolphin Sighting in Varanasi : Local sightseeing in Varanasi
The astounding and utterly unexpected sight of dolphins in Varanasi is an experience that is sure to change your life forever. Cruises, boating opportunities and tours are set up for these very occurrences, located along the River Ganges.
The Ganges river dolphin is a species all of its own, and can be found in India, Bangladesh, Nepal and other related waters. It is a fresh water dolphin and is currently endangered and on the brink of becoming extinct, so the mere opportunity of setting eyes on them brings travelers from far and wide to witness this thrilling adventure!
There are only approximately 4000 – 6000 dolphins left in the entire River, so be sure to visit today to appreciate this truly rare feat in all its glory.
Shopping in Varanasi : Varanasi local sightseeing
Shopping in Varanasi is one of the main perks of this glorious city. Immersed in rich tradition found in its famous silks, handicrafts and embroidery containing real gold and silver threads. Varanasi's artistic skills are made prominent in the stunning splendour offered at the long streets of markets.
The fascinating items, ranging from wooden and clay toys to exquisite genuine gold jewellery are sure to capture your eyes and heart. Varanasi's humble and modestly traditional items are featured proudly in traveler's homes worldwide.
Also Read : 9 DAYS 8 NIGHTS TAMIL NADU TRAVEL ITINERARY
Popular Shopping Areas, Stores and Bazaars in Varanasi:
Mohan Silk House Varanasi
Located within the holy vicinity of the Vishwanath Temple, the Mohan Silk House is a favorite among tourists; selling saris embroidered with genuine silver and gold.
Uttar Pradesh Handloom – Shopping in Varanasi
Offering some of the best bargains in the city, this emporium features elegantly stone carved items, candle stands, jewellery boxes and replicas of the Taj Mahal.
Jnana Vapi and Vishwanatha Gali
These Temple Bazaars offer silks, jewellery, hand-knitted carpets and fabulous trinkets (featuring the renowned musical instruments of Varanasi).
Dashashwamedh Road
The markets on Dashashwamedh Road offer a taste of Varanasi's rich staples such as betel nuts, flavoured supari, digestives and speciality tobacco.
Ranging from quaint and quirky to elegant and classy, Varanasi's shops are sure to attract your attention. With such a creative culture and unique items, the souvenir shopping is endless. After a shopping trip through Varanasi's market streets, your home, body and kitchen will all be sure to sport a piece of this great city.
Restaurant in Varanasi
Apsara Restaurant
Serves a variety of cuisine including Indian, Japanese, Korean, Chinese and Continental dishes.
Multi Cuisine
Ph : +0542 3258554
24/42 Ganga Mahal, Old City
Varanasi
Brown Bread Bakery
Multi Cuisine Restaurant
Along with its bakery and pizza, they serve Indian, Chinese and Tibetan food.
Ph: +0542 6450232
17 Tripura Bhairavi, Old City
Varanasi
Ganga Fuji Restaurant
Multi Cuisine
A multi cuisine restaurant that offers live classical Indian music in the evenings.
Timing: 7:30am to 11:00pm
Kalika Gali, Old City
Varanasi
Haifa Restaurant
Multi Cuisine
This restaurant is known for its Middle Eastern cuisine and Thali offerings.
Assi Ghat, Bhelpura Hotel Haifa
Varanasi
Lotus Lounge
Multi Cuisine
Offers Continental, Tibetan and Goan cuisine.
Timing: 8:00am to 10:00pm
Ph: +98385-67717
Mansarowar Ghat, Godaulia
Varanasi
Keshari
Indian Food
A popular restaurant serving pure vegetarian Indian dishes and ice cream.
Timing: 8:30am to 10:30pm
Dasaswamedh Ghat Rd, Godaulia
Varanasi
Pizzeria Café Vaatika
Multi Cuisine
Serves up Indian snacks and wood oven pizzas.
Timing: 7:00am to 10:00pm
Assi Ghat, Bhelpura
Varanasi
Varuna Restaurant
Multi Cuisine
A higher end restaurant located in the Hotel Taj Ganges, this restaurant is known for their North Indian and Mughlai cuisine.
Hotel Taj Ganges, Raja Bazaar Rd, Cantonment
Varanasi
Yafah Restaurant
Multi Cuisine
Offering Middle Eastern, Chinese and Indian dishes.
Bhelpura Hotel Divya
Varanasi
Mona Lisa Café
Multi Cuisine
This café offers a multi cuisine menu to go along with their pastries and hot drinks.
Timing: 7:00am to 10:30pm
Bengali Tola
Varanasi
Conclusion : Varanasi travel blog
A person who has visited Varanasi once comes again and again to immerse into the spirituality of the holy city. Witnessing the morning rituals or Sandhya Aarti at Varanasi is a life changing experience. We at Beluga Travels suggest you to visit this city once. It will change your way of seeing life.