Himachal, a must visit paradise, apart from offering nature tourism, also offers a wide range of adventure activities for adventure lovers. Rolling mountains, undulating terrains and snowfall regions make it an ideal spot for adventurous activities. If you think about things to do in Himachal Pradesh – you can choose from a long list of adventure activities to have a thrilling experience.
Adventure sports in Himachal Pradesh are very popular among tourists. Every year, thousands of adventure lovers visit tourist places of Himachal Pradesh to enjoy their holiday in the midst of nature and doing their most loved adventure sports so they can go back with unforgettable memories.
From a long list of adventure activities, I will suggest below the most popular ones.
Para Gliding & Hand Gliding – Things to do in Himachal Pradesh
The most refreshing sport where you can fly high in the sky and can take a feel of fresh air of mountains. A parachute that will take you high in the sky. Himachal Pradesh is gaining great popularity with this sport.
You will be accompanied by an experience guide thus making the experience to be convenient, thrilling fun, and a safe medium of soaring in the air.
Places in Himachal for adventure sports – Things to do in Himachal Pradesh
Skiing, Adventure Sports in Shimla
An exciting adventure sport of Himachal Pradesh that draws thousands of tourists from all parts. If you love speed and have control over your balance, then skiing will be a thrilling experience for you. In the winter Skiing is one of the popular adventure sports in Shimla.

Skiing, is divided into two sections – Alpine and Nordic. Alpine Skiing is racing down on steep prepared slopes. In Nordic is like cross country skiing participated by professionals.
Places where you can ski in Himachal Pradesh
Also Read : Best Hill Station In Himachal Pradesh – An Introduction
Things to do in Himachal Pradesh – River Rafting
White Water River Rafting, an unforgettable experience that you can undertake in several glacial rivers of Himachal Pradesh. Perfect for those who love water sport activities.
For River Rafting, a well experienced guide accompanies you and a group of around 7-8 people can be easily accommodated in one raft (boat). Riding a raft over gentle and in between foaming waves (called rapids) is a thrill that is must to experience. You can select the kms stretch and the rapid level.
River Rafting in Himachal Pradesh
Trekking in Himachal Pradesh – Things to do in Himachal Pradesh
Trekking is another exciting and affordable adventure sport of Himachal Pradesh. It is an ideal experience for those who would like to experience the real nature on foot. Passing through fast flowing streams, across deep woods, walking on rocky and numerous exciting paths, discovering snow-capped mountains with a group of like-minded people can be a lifetime experience. Trekking should be in the priority list of things to do in Himachal Pradesh if you love trekking.
Best part is Himachal has numerous such interesting treks where you can experience trekking. And you can also enjoy guided treks organized by various professional tour operators.
Places where you can go for trekking in Himachal
And many more but the above ones are the most popular ones. Best time to undertake these treks is from June to September.
Terrain Jeep Ride – Jeep Safari in Himachal Pradesh
Another exciting or thrilling adventure sports in Himachal Pradesh is Jeep Safari. Jeep Safari in Himachal Pradesh is perfect for those who love land cruising. Passing through exotic landscapes of Himachal Pradesh. Experiencing great sights of Rocky Mountains while riding in an open jeep.
You can book your 4×4 SUVs or even motor bikes safaris to explore even most difficult Trans Himalayan tracts.
These Jeep Safaris can be experienced from Shimla, passing through Kinnaur, Spiti Valley, up to Lahaul needling through the Kunzum pass.
Camping In Himachal Pradesh – Things to do in Himachal Pradesh
Camping in Himachal Pradesh is the best to enjoy scenic beauty of mountains. The various Campsites in Himachal Pradesh offers tourists comfortable camping facilities including accommodation, services and activities like fishing, rafting, hiking etc. which are generally included in the package.
The beauty of Himachal Pradesh attracts thousands of tourists every year to do camping and stay closer to nature.
Where you can go for camping in Himachal Pradesh
Mountaineering and Rock Climbing in Himachal Pradesh
Himachal Pradesh is irresistible for the mountaineers, as the state is blessed with ample cliffs, rocks and hills that are ideal for rock climbing and mountaineering.
Having greatest range of mountains on earth, Himachal Pradesh and its beauty, vastness, fascination and mystery will always have an everlasting appeal for those who venture in this region. The Himalayan landscape, with an incomparable diversity of flora, famous as the 'Mountaineers paradise' and, indeed, is a refreshing treat to the Mountaineers. In Manali, there is an institute of Mountaineering Atal Bihari Vajpayee Institute of Mountaineering and Allied Sports, that offers these trainings, climbing excursions etc.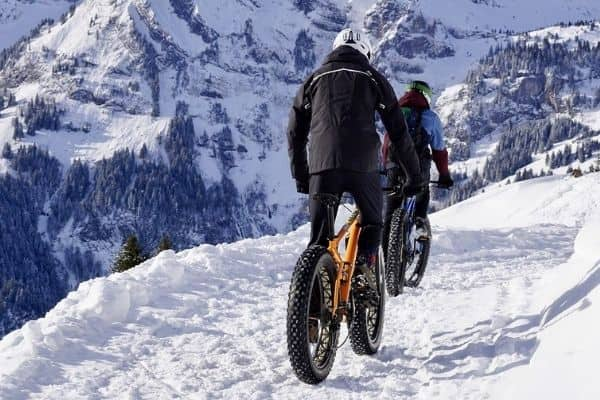 Mountain Cycling in Himachal Pradesh
In Himachal Pradesh Mountain Cycling is one of the famous sports. Cycling in Himachal is a way of discovering the mesmerizing beauty more closely. You can go for a one day trip on cycling. Also if you have a group you can go for a week-long cycling only adventure!
This adventure sport offers cycling on uneven tracks of the state of Himachal Pradesh. The sport infuses excitement and gaining popularity because of the challenging terrain with the breath taking scenic beauty that it offers to its tourists.

Below are the best trails for cycling in Himachal Pradesh :
Also Read : Mount Abu Famous Places
Angling in Himachal Pradesh
There are many fast flowing glacial rivers in Himachal Pradesh that offers amazing opportunities for fishing. Angling/Fishing is both a king of livelihood for locals and an adventure sport for the tourists.
The fun begins when you select your spot, tie a small piece of fish food on the hook of your fishing rod and patiently wait for the fish to grab the food. However, releasing the fish back into the water after the catch is the main highlight of this sport. You will find many species of fishes in the rivers of Himachal Pradesh. Angling in Himachal Pradesh is another must have adventure in things to do in Himachal Pradesh list.
Where to enjoy Angling in Himachal Pradesh
Winter Sports in Himachal Pradesh: An Exhilarating Experience
The state being dotted with numerous enchanting hill stations like Shimla, Manali, Kullu, Kufri, Dalhousie, Kasauli and Chail which offer ample opportunities for adventure activities. Sandwiched between Greater Himalaya and Trans Himalaya ranges, Himachal Pradesh is a core place of adventure activities. Himachal Tourism organizes winter carnivals in various destinations in the state to encourage the adventure enthusiasts from all corners of the world. Annual winter sport festival held in Shimla offer plenty of reasons to visit the place and can experience the best skiing competition over there. Winter sports in Himachal Pradesh bring tourists from all over the world.
During the month of January, Manali hosts annual winter sport carnivals where tourist finds all round entertainment along with sports activities. Kufri is another famous destination for winter sports specially for skiing where tourists can witness the thrill of the sport in a short span of time. The place has become one of the popular winter resorts in the state. Tourist, who visits the place to take sheer pleasure of the soothing atmosphere, can take thrilling experience of Pony and Yak ride.
Rohtang Pass – Hub of Adventure Sports in Himachal Pradesh
Nestled in the lap of greater Himalaya at a distance of about 51 km from Manali, Rohtang Pass is one of the famous hill stations in Himachal Pradesh. It is a spectacular pass on the highway to Keylong in between undulating mountain ranges of Himalaya. Draped in a thick canopy of shimmering snow, Rohtang offers ample opportunities to enjoy winter game activities and serves as an amazing destination for adventure freaks. Himachal Pradesh Tourism unleashes the enigmatic beauty of the place by organizing pleasant trip to the place.
Blessed with endless natural beauty, sky-touching snowy mountains, turquoise lakes, dense forest of Cedar and Pine trees, Rohtang pass is considered to be the most popular adventure destination of India. The place possess some of the globally renowned trekking trails that offers plenty of opportunities for skiing and trekking to the tourist.
It is a must visit place for nature lovers and adventure buffs where they get to see severe landscape difference in on their journey to the place. Huge numbers of tourist visit the breathtaking land to experience its chilly winter with a panoramic view of snow-capped peaks of majestic Himalaya. Himachal tourism offers plethora of tour packages to explore the adventurous trails of Rohtang Pass.
Paradise for adventure lovers
Perched at a height of 4111 meters above the sea level, Rohtang offers numerous apt trekking routes for adventure enthusiast. The place witness huge influx of tourists in between the months of June – September every year as during this season, Manali- Rohtang pass remains open for tourists. Nestled amidst snowy peak of Himalaya, this is best place for trekkers to have a splendid lifetime experience. The valley is covered with snow almost nine months in a year provides an excellent opportunities for skiing also.
If you are looking for something unique experience of winter sport activities then you can visit the state during winter carnivals or else, this state is the place where tourists can enjoy the thrill of winter sports every year during winter season.
What is famous in Himachal Pradesh?
Beautiful Landscapes, Apples of Himachal Pradesh are famous for its quality.
Which is the best place to live in Himachal Pradesh?
Shimla, Manali
Is it safe to travel to Himachal Pradesh?
Yes, it is completely safe to travel to Himachal Pradesh, registration needed siting purpose of visit.
How to go Himachal Pradesh by train?
Himachal Pradesh is well connected by train. Kangra Valley is one of the major route.
What are the famous things in Himachal Pradesh?
Beauty, beauty of Himachal Pradesh and adventure sports in Himachal Pradesh are famous. River rafting, Mountain cycling, Camping, Jeep safari in Himachal Pradesh is also famous.
How can I plan my Himachal trip?
You can take a flight to Chandigarh and then car or bus. If you wish to go by train then via Kalka to Shimla or Pathankot to Kangra train will be best option.
Nearest station to Manali?
Nearest station to Manali is Jogindernagar railway station.
What is the best time to visit Lahaul Spiti?
March to June is best time to visit Lahul Sipti. In winter life in Lahul Sipti is quite tough!
Best time to visit Shimla Manali
Summer season is best time to visit Shimla Manali. If you are adventure sports lover then you will enjoy late December to February.