Introduction – Best Places to Visit in Ajmer
Ajmer is known for being an absolutely divine city, going back to its superb roots of 7th Century A.D. With its picturesque views and atmosphere connected by its largely appreciated nature, Ajmer has been referred to as a piece of Heaven on earth. At Beluga Travels today we will catch up with best places to visit in Ajmer in one day.
With its delectable architecture and splash of beautiful, natural colour, Ajmer is attractive to all of the senses. The colonial monuments will inspire and motivate you upon seeing the dedication and large movements that have been put in place to make this area the flourishing destination that it is today. You can find some best tourist places in Ajmer Rajasthan.
This city is guaranteed to be unlike any other you've experienced before. The medieval and holy attractions are described as some of the most unique sights in this day and age. Celebrate the long line of culture and creativity, in no better place to do it than the glorious city of Ajmer. Let's take a look at tourist places in Ajmer with photos.
How to reach Ajmer
Travelling to Ajmer by Road /Surface transport
Traveling on the NH8 from Delhi is recommended for travelers arriving in Ajmer by car. Buses provided by the state are also available, frequenting between Ajmer and other states in the Rajasthan area.
Travelling to Ajmer by Train
The closest railway station is Ajmer Junction, which provides trains that connect to major cities such as Delhi, Mumbai, Jaipur, Ahmedabad and Jodhpur.
How to reach to Ajmer by Air
Located in Jaipur (130 kms away) is Saganer Airport, the closest available airport to Ajmer. Buses and cabs are readily waiting to travel from Saganer into the city.
Transport in Ajmer City / How to travel around Ajmer
Auto rickshaw and Tongas
Auto rickshaws are commonly used by those tired of walking. Readily available on the quiet streets of Ajmer, auto rickshaws or tongas (horse-drawn carriages) are a very authentic way of traveling. Tongas are mainly available downtown and on specific, selected routes. Auto rickshaws and cycle rickshaws come in handy along store fronts when you have had a long day of traveling by foot.
Travelling Ajmer in Taxi and Car
If you are renting a private vehicle it is encouraged to hire a professional driver as traffic can be tricky. With a tour guide alongside you, you are guaranteed a safe means of travel, as well as a very informed sightseeing excursion. Rates for this can be pricy so it is best to only rent a car if you are staying for at least a week. Be sure to look around to ensure you receive the best deal.
Walking around Ajmer city
Ajmer is a city that welcomes walking, with great scenery and good road conditions. Sites are conveniently located close together, with the Dargah Bazaar about 10 minutes away from most hotels and Ana Sagar, the decorative lake and garden about 30 minutes away. Enjoy the architecture and feel the freedom of sticking to your own schedule.
Suggested Read : Best Places To Visit In Benaras
Places to Visit in Ajmer : Tourist places of Ajmer
Akbar's Palace and Museum
Akbar's Palace and Museum is an outstanding piece of elegant history. Built by the famous Emperor Akbar in 1570, the palace attracts the widest range of tourists in Ajmer today.
With its stupendous design and structure, the Akbar's Palace and Museum is regarded as one of the strongest examples of architecture in the southeast area of Rajasthan. The palace contains a fort which is enclosed by a chain of columns. Leading inside, you'll find yourself in an immense foyer which directs you to the many rooms of the museum.
The museum is a wonderful world of Hindu figurines and art, all dating back to the 6th and 7th centuries. The classic, striking features found here are sure to stun you and entertain your imagination. Enjoy the Akbar's Palace and Museum, and become lost in the ancient sculptures, paintings and refined art.
Ana Sagar Lake : Ajmer Historical Places
In Rajasthan Ana Sagar Lake is renowned and popular tourist place. Famous Prithvi Raj Chauhan's grandfather Anaji Chauhan made this lake in 1135-1150 AD. It's remarkable beauty and splendid view has made the lake a must see place in Ajmer. The huge lake has area of 13 kilometers. You can reach the island in the center of the lake taking a boat or water scooter.
From the beginning itself the lake became popular to locals. Slowly it became popular to people from all over India. And this glorious landmark of Ajmer is now pride of the city. One of the main reasons to see increase tourists to Ajmer is the Ana Sagar Lake.
Ana Sagar Lake is not only most popular lake in India, it is one of the biggest lake also. You can enjoy exquisite view of the surrounding city. In summer the lake gets dried up. You can visit the lake in monsoon to see the stunning beauty of Ana Sagar lake.
Ajmer Dargah Sharif : Places to Visit in Ajmer in One Day
The Dargah Sharif, also commonly called the "Holy Dargah," is a highly sacred and worshiped shrine – one of the most important in all of the country. Representing the Muslim faith, the tomb of Khwaja Moin-ud-din Chisti is located here, bringing life and faith to the surroundings.
In remembrance of the saint, a ceremony is held every year for six days. Gathering around the tomb, several thousands of devoted worshipers perform the ritual and pay respects. This is a time for community and lots of well cooked meals.
Join in on the intensely dedicated performances at the Dargah Sharif. You will not only feel the spirit of Khwaja-Moin-ud-din Chisti, but also the power of the belief system of the community. This is truly a blessed attraction that triggers a lot of soul searching and discovery.
Foy Sagar Lake : Ajmer city points of interest
The Foy Sagar Lake is one of the most pristine, picturesque sights to set eyes on in the entire city of Ajmer. It is surprising to many when they find out that the Foy Sagar Lake is indeed man made. Named after Foy, a famously recognized engineer, this lake was constructed by him to aid in a famine relief project.
The touching story mixed with the rich blend of scenery allows a visit to the lake one of the most enthralling, spectacular trips. The Foy Sagar Lake is one of the top attractions and destinations for not only tourists, but people of the city as well.
By visiting today, you'll not only receive the rewards of helping to benefit to this righteous cause, but also enjoy the intensity of this stunningly designed, manmade beauty.
Nasiyan Jain Temple : Ajmer historical places
You can see many well constructed Jain temples all over India. But the Nasiyan Jain Temple in Ajmer Rajasthan is all together different. Nasiyan Jain Temple is most beautiful Jain temple ever built in Rajasthan.
Construction of the temple started in 1865 AD and completed in 1895 AD. The temple was built to dedicate it to Lord Adinath. Often referred as the Red Temple because of its colourful looks.
The temple has two different parts. One is the place where devotees pray and other part is a museum. You can see five stages of Lord Adinath's life here.
Astonishing paintings and artworks is going to leave you speechless. I mean it! You can find Belgium stain glass paintings reaching up to 80 feet.
The temple is easily accessible by bus train and by air if you are travelling from different city. Jaipur is the nearest airport which is 130 kilometers from Ajmer city.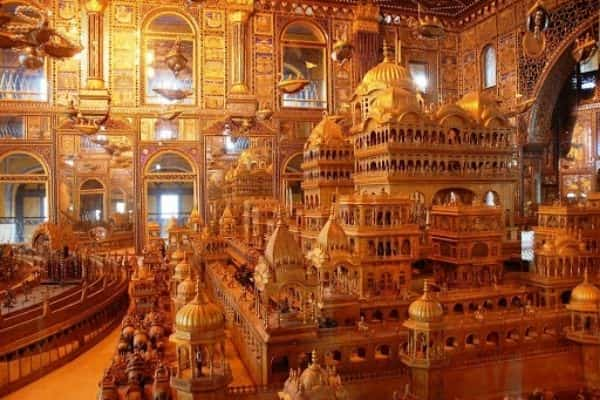 Shah Jahan Mosque : Best Places to Visit in Ajmer
The Shah Jahan Mosque, created during the ancient time of Mughal Emporer Shah Jahan, is a famous place of holiness and exciting destination for travelers to set eyes on.
With stunning architecture, the mosque is one of the remaining pieces from 1647. This rare and unique display of red bricks with blue tiles makes it stand out even more so, drawing the attention of many curious tourists. Besides its sleek design entertaining the eyes, the Shah Jahan Mosque entertains the spirit and soul with its thoroughly impressive acoustics traveling through your ears and into your heart during the impressive ceremonies.
Visit the Shah Jahan Mosque and feel yourself surrounded by the amazing spirit, carried on by all of its unique visitors. Each person who enters the Shah Jahan Mosque carries on its fame and fortune, making this an everlasting attraction.
Taragarh Fort : Places to Visit in Ajmer in One Day
The Taragarh Fort is intricately profound in appearance, as well as in the mysteries and secrets located within its vicinity. Located on the top of the Nagpahari Hill, this stone structure is a divine location for all visitors entering Ajmer.
The Taragarh Fort is a remarkable piece from 1354 A.D. and represents royalty and fine example of artistic architecture. With six gates, a guarding wall and enchanting bastion, the Fort is one of the most magical destinations for its wide range of visitors.
The views of the city located from here are truly inspiring and memorable – along with the imperial secrets and stories intertwined with the majestic building, a trip to the Taragarh Fort is guaranteed to be a trip of a lifetime.
Shopping in Ajmer : Where to shop in Ajmer
Ajmer's shopping markets offer awe-inspiring, intriguing purchases ranging from folk art, traditional colourful handicrafts, tie-dye fashion, and more. The tables are overflowing with culture and the people are overflowing with friendliness and excitement.
Popular Shopping Areas, Stores and Bazaars in Ajmer:
Ajmer is a delightful city of many celebrations, which is evident in its traditional handicrafts and exciting showcases put on display during the famed Urs Festival. During this time, Ajmer's markets become alive with artisans offering some of their most prized works in forms of paintings, designed jewellery and clothes, and hand-woven fabrics.
Available during the annual festival of Ajaymeru Udyog Crafts Mela are an abundance of cultural, historical pieces from surrounding villages and regions. Among the most popular purchases are paintings and wood crafted pieces from Kishangarh, colourful clothes from Tilonia Village, and traditional items of Rajasthan, such as silver souvenirs, utensils, hand-embroidered bags, home décor pieces, and leather belts.
Ajmer's shops, markets and festivities are recognized for their antiques, perfumes, contemporary jewellery, and eclectic blend of cultural and modern. Enjoy the wide variety of products, sights, smells and people immersed throughout Ajmer's great shopping locations.
Festivals in Ajmer / Events in Ajmer
URS in Ajmer
Ajmer presents Urs with great pride and fervour, as it represents the entire city's culture and beliefs. On this honoured day of festivities, the death anniversary of Khwaja Moinuddin Chisti, the patron saint, is recognized. As one of the largest gatherings and celebrations regarding pilgrims and devotees, Urs is a truly memorable experience to witness firsthand.
The festival entails activities such as waiving a white flag of symbolism, decorating the sacred tomb with offerings of rose, jasmine, sandalwood paste and incense, and covering the tomb with a silk cloth. After this ceremony, poetry performances take place with the addition of loud, intriguing music, introducing the upcoming feast of holy food.
Pushkar Camel Fair
For a more modern and current festival, located nearby Ajmer is the extremely unique and flashy Pushkar Camel Fair. Camels are brought from all over the country, dressed up in ornaments, decorations and eye-catching clothing to be put on display. There are also interesting activities featured during the fair, such as camel racing, camel auctioning, and even folk dances, theatre plays and magic shows!
The Pushkar Camel Fair is celebrated in great fun, and is the most recommended to witness for tourists, as it is quite a rare sight. Another great perk to visiting during the Pushkar Camel Fair is having the ability to purchase traditional Rajasthani goods from the featured stalls.
Restaurants in Ajmer
I have mentioned few good restaurant in Ajmer that you can go to have food. Apart from those restaurant there are many restaurant. Enjoy your trip to Ajmer, visit famous places and taste good food!
Restaurant Name
Food Serving
Restaurant Italian
Serving Indian, Chinese and Continental dishes.
Multi Cuisine
Phone : +0145-2622498
Station Road, Ajmer
Mango Masala
Serving both North and South Indian dishes, Chinese food and pizzas.
Multi Cuisine
Phone: +0145 2422100
Sadar Patel Marg, Ajmer
Sheesh Mahal
Serving Indian and Continental dishes.
Multi Cuisine
Phone : +0145-2425702
Hotel Mansingh Palace, Vaishali Nagar, Ajmer
Ambrosia Restaurant
Serving Chinese and Italian cuisine.
Multi Cuisine
Nagina Bagh, Lohgal Road (on top of Ambassador Hotel), Ajmer
Phone: 0145 242 5095
Haveli Heritage Inn
Multi Cuisine
150 years old traditional Guest house with restaurant
Phool Nivas, Kacheri Road, Ajmer
Phone : +0145-2621607
Hotel Hayatt
Multi Cuisine
Bye pass Road, Makrana, Ajmer
Phone : 01588-244240
Hotel New Park
Multi Cuisine
Pushkar, Ajmer
Phone: 0145-2772464
Pizzeria
Serve Italian Food
Suchna Kendra Road / Kacheri Road, Ajmer
The Daavat
Serving Indian, Chinese, Continental and Mughlai cuisine.
Multi Cuisine
Hotel Regency, Outside Delhi Gate, Ajmer
Phone : 0145-22620296
Restaurants in Ajmer, Rajasthan
Recent Post