Mount Abu Famous Places to Visit
Most beautiful and only hill station in Rajasthan State that lies in Aravalli Range. Situated at a height of 1219 m above sea level. In the ancient times, Mount Abu was known as Arbudaanchal. A popular tourist destination famous for its natural beauty, lush green forested hills and Delwara Jain Temples. There are other Mount Abu's famous places to visit which will be covered in this article. Equipped with world class tourist facilities, Mount Abu is attracting large number of tourists every year.
Mount Abu – Important Facts
Mount Abu Temperature – Summers: 31℃ to 34℃, Winters: 10℃ to -8℃ (Night).
Mount Abu Weather – remains pleasant throughout the year. Daytime in summers are comparatively warmer but evenings are very pleasant.
Mount Abu Best Time to Visit – August till September is the best time to plan Mount Abu trip. During monsoon season, nature can be best enjoyed.
Highest Peak in Mount Abu– Gurushikhar is the highest peak situated at a height of 1722 meters from the sea-level, Gurushikhar provides a breath-taking view of the town and aravali range.
Restaurants in Mount Abu – Mount Abu offers great options to eat out. Few of them are: Opa, Arbuda, Dawat, Jodhpur Bhojnalaya, Mulberry Tree etc.
Where to stay in Mount Abu
List of best Mount Abu hotels:
How to reach Mount Abu
Mount Abu is a popular tourist destination and is well connected with all the major cities in India. Mount Abu can be reached by all the travelling means available depending on distance from the point you start your journey.
Airport near Mount Abu
Nearest airport in Mount Abu is Udaipur Airport also called as Maharana Pratap International airport at a distance of 165 Kms approx. Ahmedabad international airport is another good option to reach Mount Abu. Distance from Ahmedabad international airport to Mount Abu is just 225 Kms.
To reach Mount Abu by Rail:
Abu Road railway station is just 28 Kms from the main city. Thus, well connected by rail routes to Delhi, Mumbai, Jaipur and Ahmedabad.
To reach Mount Abu by Road
Mount Abu is well connected by road with all major cities of the country; nearest national highway no. 14 is just 24 Kms.
Mumbai to Mount Abu Flight
You can reach Mount Abu from Mumbai taking a Train or a flight. Mumbai to Mount Abu fight is easily available. Book your Mumbai to Mount Abu flight in advance for best available option.
Delhi to Mount Abu
You can reach Delhi to Mount Abu by taking a Train and it will take around 10 hrs. If you are taking Delhi to Mount Abu Flight it will take around 1.5 hrs. Delhi to Mount Abu flight fare is approximately Rs. 3500.
Udaipur to Mount Abu Train:
Udaipur to Mount Abu train service is not direct. Thus it is advisable to hire a taxi or go by bus.
Jaipur to Mount Abu Bus
Jaipur to Mount Abu Bus is available. You can reach Jaipur to Mount Abu in 10hrs taking Volvo Bus. Jaipur to Mount Abu bus fare is around Rs. 450-500.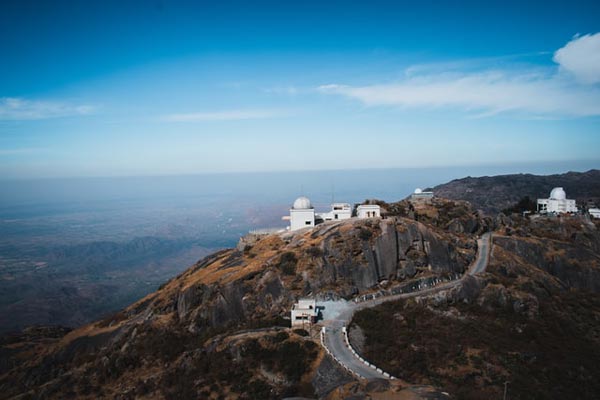 Mount Abu Famous Places to Visit
Mount Abu offers a wide range of sightseeing tours to its tourists. There is a list of Mount Abu famous placesthat one can cover during the stay. Most popular Mount Abu visiting places are listed below.
Dilwara Jain Temple – Mount Abu
Dilwara Jain temple is one of the famous Jain Temple because of its extraordinary architecture and marble stone carvings. It is also one of the pilgrimage attractions of Jainism. These temples were built between 11th to 13th century AD. The temple is surrounded by lush green hills making it Mount Abu famous place to visit.Temple timings: 12 PM to 6 PM daily.
9 Days 8 Nights Tamil Nadu Travel Itinerary
Nakki Lake – A Perfect Place To Spend A Romantic Evening
Situated amidst lush green hills, Nakki lake will give you the unforgettable moments of your Mount Abu Trip. You can also enjoy boating in the lake. Nakki Lake, a Mount Abu famous place, is a walking distance from the main market of Mount Abu and very near to almost 80% of the hotels. Nakki Lake is said to have been dug by the Gods using their nails, thus, it also considered as a holy lake.
Mount Abu Wildlife Sanctuary
Mount Abu Wildlife Sanctuary has been declared a sanctuary in 1960 and is home to great flora and fauna. Sanctuary is 7 Kms long. It is covered with beautiful flowers making a walk memorable. Mount Abu Wildlife Sanctuary is located in Aravali range and is the oldest part of Mount Abu mountain ranges. It is a paradise for nature lovers. It is one of the must visit Mount Abu famous places.
Guru Shikhar – Mount Abu Famous Places
Guru Shikhar is one of the top most visited Mount Abu famous places and highest peak of Mount Abu. Situated at a height of 1722 metres above sea level, it offers a panoramic view of the Mount Abu city and its lush green hilly range. A perfect place for the photographers. Gurushikhar is also a home to many ancient temples. Guru Dattatreya temple is among most popular. To get to the peak of Guru Shikhar, one requires to travel approximately 7km long Delwara Achalgarh road.
Mount Abu Sunset Point
Time to relax in the lap of nature and enjoy the fascinating scene of sunset. Sunset point is located in the Southwest of Nakki Lake. A perfect time for photography. This is yet another Mount Abu famous place to visit.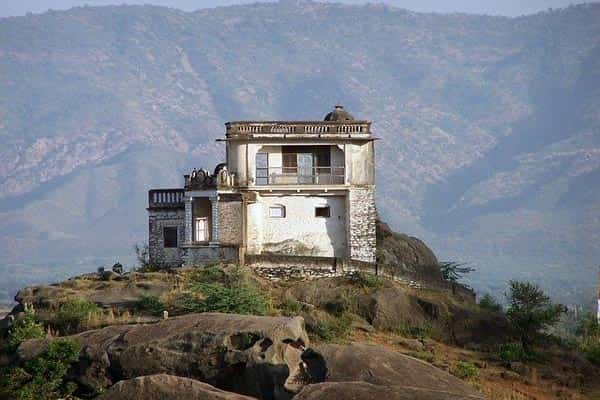 Achalgarh Fort – Mount Abu Famous Places to Visit
Achalgarh is 8 Kms from the city of Mount Abu, situated in the Thar Desert of Rajasthan. It is well connected by road. It is believed to be built in 9th century around a toe print of Lord Shiva. Thus it contains a natural Shivling. The fortress AchalGarh is surrounded by massive battlement walls and is situated at the top of a mountain peak offering picturesque views year round. Achalgarh Fort is another must visit place in Mount Abu.
Mount Abu – Trevor's Tank
5 kms from the main city of Mount Abu. One of the most popular tourist destination near Mount Abu. It was built by a British engineer. At Trevor's Tank, you can enjoy watching a man-made tank used to breed crocodiles. It can be a perfect picnic spot. It is paradise of birdwatchers. You can also witness wildlife here.
Mount Abu Bazaars
Last but not the least, Mount Abu famous Bazaar is a great place for shopping. Time to buy great souvenirs for friends and family. From clothes to food items to ethnic jewellery, you can get everything here. Thus, local bazaars of Mount Abu are among Mount Abu's famous places.
Mount Abu Sightseeing Bus
You can also avail bus tours to visit Mount Abu famous places. The RSRTC runs bus tours of Mt Abu's main sights, bus leaves from the bus stand where reservations can be made. Bus tours includes visit to Achalgarh, Guru Shikhar and the Delwara temples and end at Sunset Point. The full-day tour also includes Adhar Devi, the Brahma Kumar is Peace Hall and Honeymoon Point. Camera fees and the guide fee are extra.
Best Darjeeling Toy Train Ride – Ticket Fare, Toy Train Route