Darjeeling Toy Train Ride – Ticket Fare, Toy Train Route :
Visit Darjeeling "a lifetime of memories"
Come and feel the bliss of Toy Train Journey singing the soulful song "Kasto mazza hai relaima/ Ramailo o kaali oraali. It is often said "Enjoy the Beauty of Hills at Low Speed"; and that is what Darjeeling toy train is famous for. This wonderful experience lures Tourist from all over the World. This mist-kissed Darjeeling Toy Train journey through the heart of nature is always cherished by nature lovers and thus has become a signature Heritage of West Bengal, India.
Take a Darjeeling Toy Train Ride
"Runs from New Jalpaiguri, in the state of West Bengal, to Darjeeling via Siliguri, Kurseong, and Ghoom, leaving a mesmerizing effect on the passengers when passing through undulating hills and lush green tea plantations of Darjeeling"
Darjeeling Himalayan railway (DHR) was declared a World Heritage site by UNESCO in the year 1999. It was only the second railway to have accorded this status after Simmering Railway of Austria.
The Commencement of the Darjeeling Toy Train Joyride
"The famous toy train of Darjeeling Himalayan Railway had made its first trip in the year 1880."
Darjeeling Himalayan railway was built between 1879 and 1881. It is about eighty six kilometres long. The elevation range is from hundred meters in New Jalpaiguri to about two thousand and two hundred meters at Darjeeling.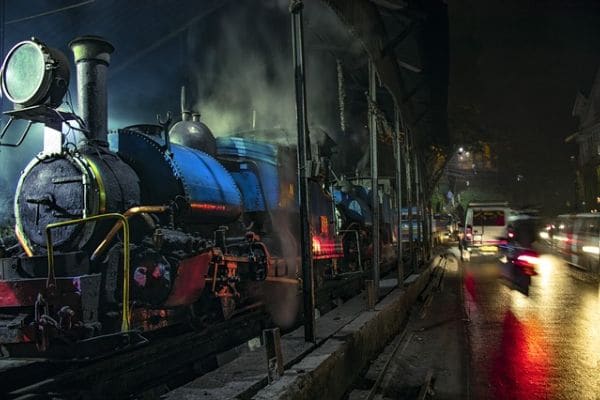 The Lifetime Experience of Darjeeling Toy Train
"While taking the joyride, experience more close view of the entire landscape, lush green valleys and sprawling tea estates. Since the journey is slow and steady, the photographer in you will cherish the innumerable moments of photography while riding the toy train."
Starting from New Jalpaiguri, the real ascent of toy train starts from the station, Sukna. From here changes in demeanor of local people can be noticed. They start showing Mangloid features. From Sukna, blue mountain ranges of the foot hills are visible and train rises from plains passing through tea gardens and forests of teak and sal.
While passing through Rangtangstation, take a view of beautiful mountains covered with dense forest. As it moves further, feel fresh air from lush greenery on both sides, take a view of tea gardens & tea factories. While it reaches Chunabati, It is more among the mountains, and a panoramic view of deep valley and higher range of mountains are visible
Tindharia, in old times, was the spot where travelers used to stop for tea. From here, one can get extensive view of hills. On leaving Tindharia, you can get glimpse of jagged rock faced mountains, Giddapahar, up ahead. Train will later pass through here. From Gayabari, train leaves using "Zig Zag"; reverses. (Due to the steep mountain terrain, the DHR utilizes several loops and Z-Reverses or zig-zags)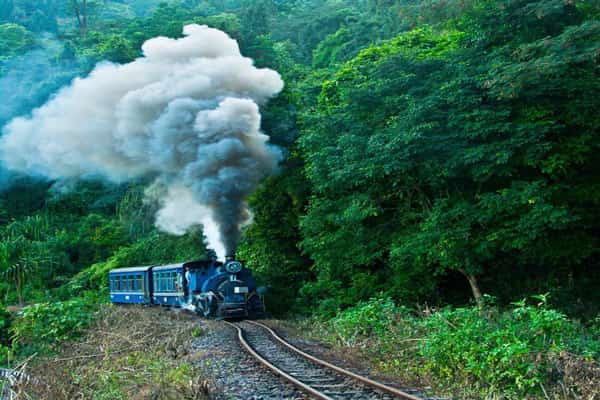 Ghum, the Highest Train Station in Asia
"At a height of 74000 feet, Ghum has extraordinary views to offer. Take a walk inside the Railway Museum; no need to pay for the entry fee (already included in the trains fare)."
After passing through the stations of Kurseong, Toong and Sonada, it finally reaches to Ghum, stops for 30 minutes; the highest railway station in Asia and second highest in World. The famous Tiger Hills is the pinnacle of Ghum. The glimpse of sunrise from Tiger Hills is the principal attraction of Darjeeling Toy Train.
On its way back from Ghum, it goes via Batasia Loop (the famous point). From here, experience a stunning view of the town of Darjeeling situated in the lap of hills and majestic Mount Kanchenjunga in the backdrop.
It takes around two hours to complete round trip journey from Darjeeling to Ghum. The route is 14 Km one way. At Batasia Loop, the trains stops for 10 minutes. Use this 10 minutes wisely enjoying every moment of it in the lap of nature, the well maintained garden at Batasia Loop and the War Memorial inside being the value add.
Interesting Facts – Darjeeling Toy Train
Darjeeling Toy train made its first journey in 1880.
The rail tracks are only 2 feet wide
Tiny compartments, they are in size of a small bus.
Steam engines running on coal are more than a century old.
New additions of diesel engines are there and they run faster than the steam engines.
In 1999 Darjeeling Himalayan Railway was declared World Heritage Site by UNESCO.
Darjeeling toy train crosses 500 small bridges and 5 significant bridges on its way.
Why we call it as legendary experience?
Darjeeling Toy Train carries memories from the British Era. The train runs from NJP to Darjeeling and covers Siliguri, Kurseong and Ghoom through lush green-valleys. The century old steam engines have lost many of their charm but still the sheer beauty of the route is matchless.
The diesel engines are quite fast but the snail paced steam engines will give you opportunity to soak in to the exceptional beauty of sights on both sides of the route. If you love photography, Darjeeling Toy Train is the best way to enjoy both the journey and taking some amazing clicks. People from all walks of life around the world enjoyed ride on the Darjeeling Toy Train and still the craze is increasing day by day!
Darjeeling Toy Train Time and Fare
"Book your ticket well in advance so you don't miss the opportunity to cherish this lifetime memory"
Being extremely popular among tourists, chances are there you will not get a ticket if not booked well in advance. You can easily book the ticket online from Darjeeling Himalayan Railway Website.
Back and forth, 18 rides are available to choose from. The first train is at 07:40 am and the last at 16:20.You can also select the ride between diesel and steam engine.
"Steam engine ride is more popular and spending a little more on it is absolutely a worth."
Fare:
Steam Engine is INR 1400 (First-Class only) Diesel Engine fare is INR 805 (First Class only)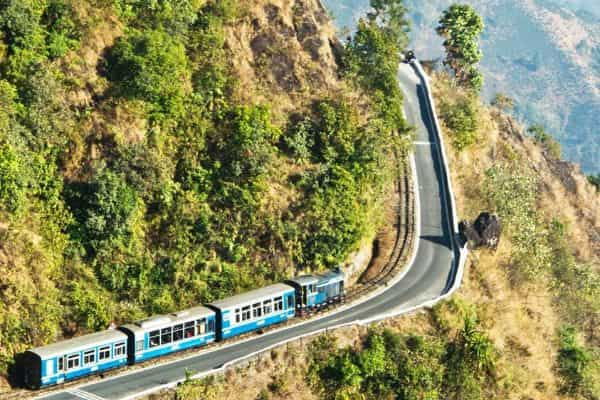 Darjeeling Toy Train Routes Offered
Daily rides from NJP to Darjeeling
In peak season you can avail this ride every day. The train starts from NJP at 08:30 and reaches to Darjeeling at 15:35. However, sometimes it gets delayed.
STATION
FIRST CLASS
SECOND CLASS
ADULT
CHILD
ADULT
CHILD
Njp to Darjeeling
340.00
195.00
120.00
70.00
Darjeeling -Ghoom Darjeeling Round Trip Fare for Joy Ride
| | | | | |
| --- | --- | --- | --- | --- |
| TRAIN NO. | CLASS | FARE | ARRIVAL | DEPARTURE |
| 52546 DIESEL JOY RIDE | FIRST | 800.00 | 08:50 | 09:20 |
| 52548 STEAM JOY RIDE | FIRST | 1300.00 | 11:30 | 12:00 |
| 52574 DIESEL JOY RIDE | FIRST | 800 | 11:50 | 12:20 |
| 52549 STEAM JOY RIDE | FIRST | 1300 | 14:10 | 14:40 |
| 52575 DIESEL JOY RIDE | FIRST | 800 | 14:20 | 14:50 |
| 52547 STEAM JOY RIDE | FIRST | 1300 | 16:55 | 17:25 |
Ø Darjeeling To Kurseong To Darjeeling Steam Special – Red Panda
In this ride you will be covering total 31 Km distance. From Darjeeling the trains starts at 10:15 and reaches Kurseong at 13:10. From Kurseong the train starts at 15:00 and reaches at 17:50.
| | | | | |
| --- | --- | --- | --- | --- |
| TRAIN NO | CLASS | FARE | FROM | TO |
| 52570 DN RED PANDA(TUE,THU,SAT) | FIRST | 890.00 | DARJEELING | KURSEONG |
| 52571 UP RED PANDA(TUE,THU,SUN) | FIRST | 890.00 | KURSEONG | DARJEELING |
Note: On Tuesday, Thursday and Saturday there is a special steam engine toy train between Darjeeling to Kurseong and back. At 09:15 it leaves Darjeeling and reaches Kurseong at 12:30. On the return journey it leaves Kurseong at 14:00 and reaches Darjeeling at 17:45.
Ø Himalayan Wheels : Mahanadi – Kurseing Round Trip Special
| | | | | |
| --- | --- | --- | --- | --- |
| TRAIN NO | DEPARTURE | ARRIVAL | FARE | CLASS |
| 72 HIMALAYAN ON WHEEL (SAT) | 14:00 | 16:20 | 605:00 | FIRST |
| 73 HIMALAYAN ON WHEEL (SUN) | 10:15 | 12:35 | 605:00 | FIRST |
Jungle Safari: Siliguri -Rangtong Round Trip Steam Special
It is a round trip ride from Siliguri to Rangtong and back, 16 Km each side. The ride starts at 10:30 from Siliguri and reaches at Rangtong at 11:50 passing by Sukna on the way. At Rangtong you will get 20 minutes halt for refreshment and comeback by 13:35.
"Specialty of this ride is Mahananda Wildlife Sanctuary. The stunning view of wildlife and fantastic photography opportunity makes it more special."
| | | | | |
| --- | --- | --- | --- | --- |
| TRAIN NO | DEPARTURE | ARRIVAL | CLASS | FARE |
| 52559 JUNGLE SAFARI | 10:30 | 13:35 | FIRST | 605:00 |
** Round trip fare is Rs. 1200 for Steam Engine ride. For Diesel Engine ride it is Rs. 540.
Things to remember for Darjeeling Toy Train
Train Fare and timings are Changeable. Please verify with the Darjeeling Himalayan Railway Website for latest fare structure.
Darjeeling Toy Train has very little luggage space, do not carry your baggages while travelling on toy train.
Train is often gets delayed, plan your connecting journey accordingly.
The Darjeeling Himalayan Railway is one of the oldest, iconic systems in the country and it is worth a visit on your next trip to the Queen of Hills!