Get The Glimpses Of Best Hill Station In Himachal -Right Place At Right Time
Himachal Pradesh is one of the most beautiful states in India and known for its best hill station in Himachal Pradesh and endless natural beauty. Tourists from around the globe come to visit the picturesque land and often mesmerized with its verdant valley, lush meadows, snow-capped mountain peaks, and gurgling rivers. Diverse geographical setting of the valley – the northern part is in the Trans Himalayan ranges. The southern part of the state represents lower ranges of Himalaya. Himachal tourism offers a large number of tourist activities like enchanting hill stations, pilgrimage sites, adventure treks and wide vistas of natural beauty which make thousands of reasons to visit the land again and again.
Weather in Himachal Pradesh
Diverse regions of the state experience varied climate throughout the year. The southern regions experiences normal climate like plain land of North India. But the Northern part has temperate summer and extreme snowfall and winter. Thereby, best season to visit Himachal depends on which weather you want to enjoy and what you would like to do over there.
Talking about Himachal, most of the tourists generally like to visit the stunning hill stations. Best time to visit Himachal hill stations from April to June. The day time is pleasant and you will enjoy cool nights during this season. To avoid scorching heats of the plains, domestic tourists rush to the best hill station in Himachal Pradesh.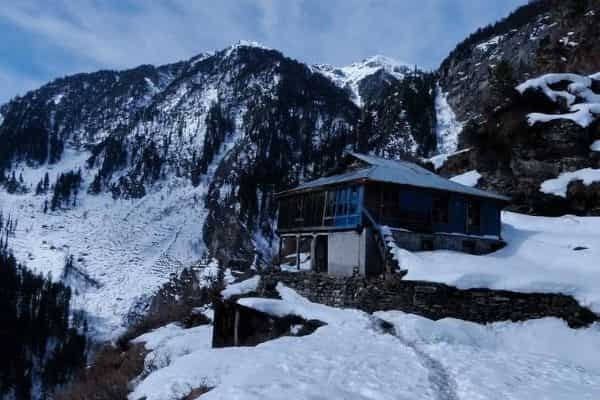 If you wish to witness heavy snowfall in Himachal Pradesh visit the hills in December – January. You can enjoy exhilarating moments covered with a thick canopy of white snow all over the places. Also it is the best time to enjoy various winter games. If you make a plan to visit best hill station in Himachal Pradesh but to stay in southern part of it then best time to visit is October to March. You will be enjoying best winter season in Himachal during this time.
In the monsoon it is like heaven! Lush fresh greenery all over the places – visit during July to September. The verdant beauty and streams and springs of nature cover the valley in monsoon. Himachal Pradesh tourism has exclusive tour packages for honeymooners.
Best Hill Station In Himachal Pradesh – Initiative taken by Himachal Government
In order to boost pilgrimage tourism, Himachal Govt. has taken an initiative to tie up with Punjab Govt. Revered religious sites like Anandpur Sahib and Naina Devi shrine will linked with a ropeway. It will cut both travel time and cost of visiting religious spots. Six such projects proposed to flourish tourism in the valley.
After the project is completed pilgrimage from Anandpur to Naina Devi Temple will take much lesser time and cost. By the time you visit the Himachal hill stations some of the projects will be completed and you can enjoy a ropeway ride. Distance between the two shrines will be only four kilometres by areal journey.
Unity in Diversity lies in land of Himachal
Himachal is the place that represents perfect synthesis of natural abundance and religious atmosphere. The place houses some of the world renowned ancient temples and monasteries that fascinated devotees from across the world. The awe-inspiring land is a natural tourism site and also a confluence center of diverse religions. Monasteries of Dharamshala and Spiti Valley are epicenter of Tibetan Buddhism while ancient temples scattered other parts of the states smack of the Hindu mythology. The mystical land is also blessed with Sikh pilgrimage sites including Paonta Sahib. Himachal Pradesh tourism unleashes a spiritual journey for the tourists of different faiths.
The spectacular land of nature is dotted with some of the most popular and remarkable ancient Indian temples which draw the attention of dedicated devotees and curious visitors alike. For instance, Temple of Goddess Jwalamukhi is one of unique kind where flames are burning since time immemorial through a split in an age old rock. The temple of Mata Chintpurni is dedicated to Mata Chintpurni and Chhinnamastika Devi is another mostly revered temple in the state, located in the Una district.
The name came from an idol of goddess Durga without a head in the temple. Shri Naina Devi Ji is also one of the notable temples to worship in Himachal located in Bilaspur. Laxmi Narayan temple which was constructed in 10th century is a piece of architectural excellence.
Trans Himalayan region of Lahaul and Spiti valley and abode of his holiness 14th Dalai Lama– Dharamshala are the premier Buddhist pilgrimages sites of Himachal Tourism. There are numerous numbers of Buddhist temples and monasteries dotted over the both regions. Among them Leh Palace, Hemis Monastery, Spituk Monastery of Ladakh region and Namgyal Monastery, Kirti Monastery, Gyuto Monastery of Dharamshala are popular Buddhist spiritual places.
Himachal Pradesh Eco Tourism: Where Nature Trails Beckon
Nestled in the Western Himalaya, Himachal Pradesh is a land of majestic terrain and sublime beauty of nature. Himachal in India is the place where eco-tourism is developing in its wilder and purest form. This beautiful state is simply blessed with almost everything that makes it a paradise of ecotourism. Himachal comprises an extensive forest area that constitutes two-third of state's total geographical area. Forest areas of the state are the oasis of rich bio-diversity and preserving the Himalayan eco system.
Himachal Tourism sector has effectively set up the state as an important eco-tourism site in the country. State's authority has developed various facilities that required for eco tourist. Approximately 400 forest bungalows had been constructed at the vantage points to offer accommodation facilities. Numbers of well-trained guides and porters have been appointed and framed an immaculate nature trail along the forest sites. Nature, wildlife and culture are main components of ecotourism, which has significantly boosted up the Himachal Pradesh Tourism sector.
The dense lush coniferous forest forms a soothing backdrop to the lofty Himalayan Mountain. Plant species like the Oaks, Maples, Hazelnut, Walnut, Bird cherry add more charm to the natural grandeur of the landscape. Wildlife sanctuaries of Himachal Pradesh houses approx. 3240 plant species along with species of mammals, 43 reptiles and 516 varieties of aquatic fauna and are the great hub of eco-tourism.
Among them, Great Himalayan National Park in Kullu is one of the main protected forest lands, which offers immense opportunity to enjoy nature at its best. Wildlife species are best thriving in this land owing to its rugged terrains, pleasant climate, dense forest and meandering waterways. Local tribe of Himachal is another major feature of eco-tourism; they are hugely contributing in preserving natural trail and wildlife alike.
Also Read : Mount Abu Famous Places to visit