Best beaches of Goa : From the very beginning Goa has remained best destination for Sea Beach in India. Among 70 beaches in Goa we have picked up 13 most favored beaches by tourists.
Goa is an ideal tourist destination and is vindicated by a myriad of hotels to satisfy all the visitors. People coming from various globes are convinced with the choices to stay. This small Indian state is the splendour of India. Goa is waiting to offer the best to holidaymakers. Goa provides the vivacity and life of Europe packed with Indian spirituality.
1. Anjuna Beach – One of the best beaches of Goa
One of the best beaches of Goa Anjuna is situated to the west of Mapusa and its palm trees highlight this beach in Goa. Anjuna has an influx of tourists every year, even tourists preferring to have limited itinerary cannot avoid getting charmed by this beach.
Anjuna Beach was discovered by the travellers in 1950s and 60s and was regularly used to hold trance parties. Its quaint scene lures visitors and the hotels also arrange tours, so their guests relax in this beautiful tranquil.
When to Visit
The tourist season is in early November, while the Christmas and New Year is the rush period. However, this beach is well enveloped by bars, restaurants, hotels and shops. Christmas is the period that attracts a mixed crowd of tourists to big beach parties, and the hotels are full.
The off-seasons are not slack seasons as Anjuna Beach receives unhurried visitors staying for more extended periods. This is the time that the hotels receive guests coming on package tours. Accommodations are easy to find owing to the plenty of hotels and lodges. All these places ensure beautiful stay as per your budget.
What to do and where to stay
Anjuna Beach is safe for bathing, and there are exclusive resorts offering pools as well. Taking long walks is commonly loved by all the visitors and is the favourite pastime while watching the moon rising on the silver sands.
Accommodation is easy to find, yet full moon days may create an awkward situation owing to full moon parties on the beach. Similarly, November to February is the clement climate inviting visitors, and the plethora of hotels offer a decent stay with best amenities.
The nightspots are also great hangouts, and the eating places at Anjuna specialize in western food and fish. Visitors can buy coconuts and fresh fruits from the beach vendors.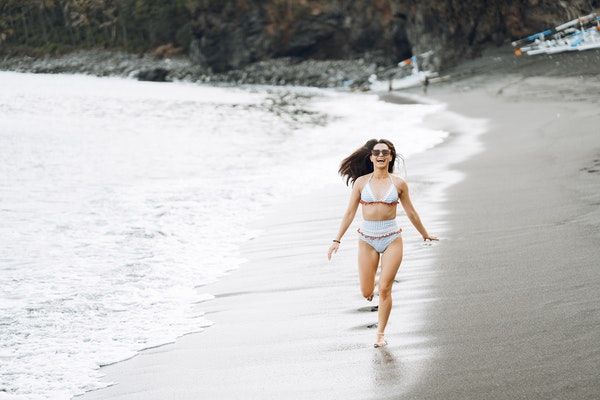 2. Baga Beach – Sun, Sea, Sand And Tranquility
Baga Beach acquired its name after the Baga River and is a 30km stretch coastline. Baga Beach is an extension of Calangute beach starting at Sinquerim beach, then Candolim Beach and gets into Calangute beach and finally to Baga beach, Anjuna Beach, Vagator Beach and eventually ending at Chapora Beach.
Baga Beach is snuggled between beaches and its quaint atmosphere and tranquil location, besides its picturesque beauty makes it the most desired beach. Baga beach is popular among tourists loving to enjoy fishing and water sports.
Restaurants at Baga Beach
Moreover, the number of resorts near the beach has elevated its importance to heights. These resorts have well-trained staff and have modern facilities such as luxurious baths, air conditioning and TV.
Baga has the best restaurants ranging from regular beach shacks to swish pizzerias, and the pleasure is doubled by having real espresso coffee at the terrace cafes. Tourists can enjoy candlelit dinners or a traditional Goan meal at any of the restaurants and also enjoy mouth-watering seafood.
Nightlife at Baga Beach
Nightlife at Baga beach is the liveliest at most restaurant outlets! Some of the best resorts include Sun Village Resort, Ronil Beach Resort and La Calypso Beach Resort and Baia Do So Resort. These resorts offer yummy food and also facilities like ayurvedic massage.
Baga Beach is an unspoiled gem having lapping ocean waves and white sand. This beach is ideally located amidst the rustling palm trees making it an apt destination for family and friends to spend their vacation. Moreover, the hotels also offer desired stay and best services, besides providing packages to visit beaches.
Why one of the best beaches of Goa?
People looking for hectic nightlife can visit the other cousins of Baga as they are also well-facilitated with beach resorts and guest houses. Baga beach is a quiet beach between two busiest beaches, and this is the reason that even serious nightlife lovers also spend a few quiet hours on the Baga shores, recuperating and unwinding.
3. The Beautiful Benaulim Beach
Benaulim Beach is pleasant, quiet and is unexplored by domestic tourists. This beach remains crowded during weekends with Indian visitors. Benaulim beach is renowned for fishing, and the sea is very safe for swimming. All this has made it more popular among visitors, and there are few serviceable restaurant and bars to entertain the visitors to this beach. Benaulim Beach enjoys a laid back atmosphere and hence is a peaceful beach sited next to Colva beach.
Food & Accommodation
The number of places for accommodation such as hotels, resorts and guest houses are limited at Benaulim. But the Cova beach has plenty in all types offering accommodations from high to low budget hotels.
The hotels at Colva beach also facilitate by offering packages to visit other beaches. As they escort you to Benaulim Beach, visitors can relax for a long time and eat or drink with the small shops.
The eat-outs at the beach serve competitively priced seafood, and there are café bars, laundry, pharmacy, bank and auto-rickshaw or taxis to transport. Bikes are also available on rent.
Benaulim hotels and guesthouses are very few, but accommodating any of the hotels near Colva beach is simple as it facilitates conveniently reaching Benaulim beach. The distance is only 2 Km, and the accommodations at Colva beach are also inexpensive.
Access & Activities
Enjoying the tranquillity and peace and relaxing under the sun takes you to a new world. Moreover, though the number of hotels at or near the Benaulim Beach is very few, the visitors enjoy a great time at the beach as there are small buildings at this beach serving drinks and food at any time.
There are plenty of opportunities providing easy access to the Benaulim beach while being within easy reach of Colva beach. However, visitors planning for a more extended stay can look for a local house on rent and groups can enjoy staying at any of the hotels or guest houses. Due to good accessibility and being tourist friendly, Benaulim beach is one of the best beaches of Goa to tourists.
4. Bogmalo Beach – The Bather's Paradise
Why one of the best beaches of Goa!
Bogmalo Beach is clean and less crowded than other Goa beaches. The water is ideal for swimming. Bogmalo is a fishing village now blends serenity and commercialism with pure beauty. This is apparent in the number of hotels and resorts sited facing the beach. These hotels make an excellent place to stay. Bogmalo is considered to be one of the best beaches of Goa.
How to Reach
Bogmalo Beach is also adjacent to the airport and is well-connected by taxis, buses and motorcycle taxis. It is approximately 18km from Dabolim Airport. This beach is beautiful naturally, but the hotels such as the Oberoi's have taken it to the peak. The view is lovely such that beyond the buildings are these little islands and pleasant eateries ready to treat your taste buds.
Where to Stay and have Food?
Luxurious lodging options are overlooking the beach, besides the Bogmalo Beach Resort. A good number of guesthouses in mid ranges are also available. These places also offer package tours and take you to other beaches and places of attraction saving their guests from tedious travelling in local transports.
Majorda beach is near Bogmalo beach, and there are accommodations such as guest houses available at low prices. However, the luxurious hotels are available featuring the best amenities. Bogmalo is ideal for bathers as the water is not hazardous with rip tides and undercurrents. There are many modern eateries and restaurants, besides boutiques and craft shops.
Best Activities to Enjoy
The beach is quiet all through the year and facilitates relaxing in the sun or paddling through water and having dinner in local restaurants. Going for a swim is recommended, and these azure waters are also ideal for parasailing.
You can spot sea turtles and dolphins on a regular basis as well. The Oberoi hotel faces the seafront, but the other hotels also are great to stay and make perfect accommodation. These hotels also accept an online booking and give their visitors related inputs regarding travel.
5. Calangute Beach – The Hippy Retreat
Best beaches of Goa with Astonishing view. Calangute Beach is the queen beach and was initially called 'Koli-gutti', the fishermen's land. Calangute, this name was conferred by the Portuguese, and the landscape presents greenery semi-circle with crystal blue waters as borders.
This beach looks scenic and is blessed with coconut trees making it more serene. International tourists frequent Calangute and owing to this the number of hotels, resort and guest houses have increased, and this beach has become a traveller's cliché.
Amazing Beach Activities
Calangute beach facilitates soaking in the sun, sea and sand that it is considered as a tourist heaven. Moreover, besides the pampering of the hotels, the beach stalls and shacks also sell fried prawns and beer.
The hippies in 1960s were the founders of Calangute Beach, and even today it is a popular retreat for Indian travellers and western tourists. The beach is filled with people in the hot days for sunbathing and going to the sea down. Tourists spend maximum time on the beach and retreat to their hotels that are home far away from home.
Calangute beach features Kerkar Art Complex that presents regular shows and art exhibitions throughout the season. The hotel's accommodation is available to suit the ranges of all the visitors and majority hotels arrange tours in groups and individual tours to facilitate traveller's to visit beaches and other attraction.
Party at night
Nighttime's are not lonely, as traveller's party here till well past the middle of the night. The quaint huts and local shacks serve cold beer and local delicacies. You can get some hand-made objects on the beach. The tourism industry also welcomes visitors to many numbers every year and ensures enough accommodation facilities.
Calangute beach is an ideal place to make new friends, laze at day time and eat local foods and seafood. This beach also offers water skiing, parasailing and windsurfing. Spending a vacation is rightly done in Goa beaches.  Calangute is not second to anything. According to tourist Calangute is the best beaches of Goa to enjoy.
6. Cavelossim Beach – Best beaches of Goa
Most beaches in Goa feature spectacular views, incredible weather (in the right season, of course) and the delights of local cuisine, local people and ice-cold beer. Cavelossim beach is a relatively quiet beach that offers all of this in abundance. This beach gives an incredible moment for newly wedded couples and considered to be one of the best honeymoon beaches of Goa.
Food you should not miss
The shacks that are present up and down the Goan beach serve incredible local cuisine, mostly based on the seafood that is caught locally. Fried prawns and other seafood delicacies are particularly popular. The same shacks also serve ice-cold beer to help wash down the food and keep you fresh in the lovely, clement weather.
Beaches in Goa are also famed for their fishing because of the plentiful supply of fish that are relatively unharmed, because of the non-existence of large fishing boats. You may meet some local fishermen as well as other tourists trying their luck, but that will usually be it.
Why Cavelossim is considered among best beaches of Goa
Cavelossim beach in Goa has a very different aquatic appeal. Regular boat trips set sail from Cavelossim taking tourists to see the dolphins just off the coast of Goa. This Goan beach is perfect for the nature lover in every way. The crisp, clean, white sand of Cavelossim beach in Goa is met only by the beautiful blue waves of the ocean and the lazy summer sun.
Where to Stay
Cavelossim and the surrounding area feature a veritable wealth of accommodation that will meet your needs regardless of your budget.
Some of the beach resorts around Cavellosim and neighbouring Varca can prove to be relatively expensive. Still, there are other, more affordable places to stay if your budget won't allow the luxuries of a resort. Some of the best accommodation can be found in the shape of the inns that overlook the seafront. These are inexpensive and offer an excellent, friendly service to boot.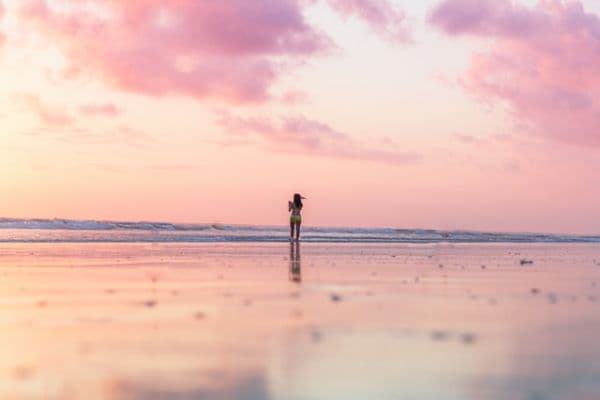 Also Read: 6 Best things to do in Kerala
7. Chapora Beach, Goa
Goa is a prominent place as it has a European style mixed culture and people from all over the world come to visit its beaches, churches and wildlife sanctuary. Goa has plenty of beaches as it touches the Arabic sea and Chapora beach is 2.8km long sited in north Goa.
Best Attraction
The major tourist attraction is the Aguada Fort in the Candolim Beach, the lighthouse, the church and the Jail. There are plenty of villas, guest houses and resorts around the forts as they are the most visited attractions. This beach is 14 kms to the north of Panaji, and this beach has white sand drawing tourists in lots. Some of the prominent activities include water skiing, windsurfing, meditation and yoga.
Hotels & Restaurants
The beach here has plenty of inns offering excellent facilities and Candolim Beach also has resorts and hotels providing exceptional stay but is expensive. However, staying in guesthouses is ideal as they are affordable. Hotels in Chapora beach are not merely for attraction; they are to offer comfort levels to their guests. There are incredible accommodation options to meet the budget and taste of each individual.
Conversely, cheap hotels are in plenty and so people planning for inexpensive holidays can have a great stay. Walking down the main street of Chapora beach also takes you to traditional buildings and modern restaurants, stores and bars.
Moreover, easy access to other beaches is also one of the reasons to make this beach popular and the presence of makeshift restaurants and bars on the beach-side has made it a renowned place for tourists to keep frequenting.
Also Read : Best Mountains to Travel in Switzerland
8. Colva – Best Beaches of Goa
Colva beach is the finest, largest, oldest and most spectacular beaches in Goa. Colva beach is famous as the most romantic beach and the best time is from November to February to visit. Colva beach sand is white and soft that one can walk barefoot.
Colva beach offers the real charm of nature, and its scenic beauty during sunrise and sunset create a balance of beauty. The most impressive factor is that shells of this beach are in attractive shapes and dot the entire area.
Hotels to Stay
Accommodation in the hotels and resorts include 2-star and 4-star resorts. Though Colva beach has not grown as Anjuna and Baga beaches, there are resorts, restaurants and hotels in plenty. Colva beach, in particular, has gained popularity owing to the shacks and huts dotting the shoreline and serving with drinks and local and seafood. Colva beach is popular as there are hotels in plenty offering reasonable accommodation and gets filled up quickly. However, booking in advance is best if one is planning to spend a week or more.
What you should not miss here
Attractions such as the Damodar Temple, Shantadurga Temple, Shree Navdurga Temple, Chandranath Temple, the Buddhist caves and the Jama Masjid are easy to reach from the Colva Beach, and this has stirred the popularity.
The Beach Bonanza fair is held in mid-April and includes a lot of fanfare. Moreover, the Colva beach hosts activities such as speed boating, kayaking, water-scootering and Sailing.
Partying at Colva – Best Beaches of Goa
However, the Colva beach is not a hilarious destination for conducting parties, but the nightlife is livelier. People loving solitude will find Colva beach appropriate as the beach resorts come in affordable prices and the hotels are surrounded by lush green gardens. Goa tourism is well developed, and its hotels ensure an enjoyable and memorable stay making your trip the best.
9. Dona Paula Beach
Dona Paula beach is the hottest tourist destination offering a great sunbath. This beach is referred to as a Lover's Paradise as a tragic story of a viceroy's daughter committing suicide for not getting married to her lover; a local fisherman is associated.
Best time to visit
The beautiful setting amidst casuarina's and palm trees makes it the best tourist attractions. The ideal time worth visiting is between Novembers to March.
Nearby attractions
The Vainguinim and the Miramar beaches are the nearest from Dona Paula beach, and the Salim Ali bird sanctuary and the Reis Magos Church are also closely located. All these make the Dona Paula beach a must-visit place, and the convenience of accommodation options makes it a popular spot.
Should not Miss
Visitors to this beach can also have a great time with water sports such as windsurfing, para-sailing, water skiing, yachting, snorkelling, motor boating and water-scootering.
The water sports festival annually is held in November and is the peak season, and it is best to get accommodation booked in advance.
How to reach
Dona Paula beach is easily accessible as there are plenty of buses from the bus depot and the Karnali railway station is at the closest proximity. There are taxis, auto-rickshaws and motorcycles as well, offering easy transportation.
Hotels to stay
There are cheaper accommodations besides the beach-side for backpackers as well. There are tourist attractions such as the National Oceanography Institute and Marine Biology Museum at the closest proximity of the Dona Paula Beach.
The hotels and the resorts here are the special highlight as they not only offer comfortable accommodation, but they also offer the best amenities and services. There are five-star properties offering classic luxury and oasis of comfort. There are modest and budget accommodations also available offering regular facilities. The hotels also offer tour packages and escort their guests in opulent vehicles.
10. Miramar Beach
Visit Famous Miramar beach, The best Beaches of Goa.
Miramar beach is renowned around the world for its beauty, its friendly atmosphere and its vibrant social life. Situated 3 km from Panaji, it is the closest Goa beach to the Goa capital, making it even more popular with visitors to the region.
This 2km stretch of beach with white sands and plentiful palm trees is particularly enjoyed during the early evening when the sun is beginning to set. The plethora of palm trees cast an incredible shadow across the beach. The Aguada Fort, a Portuguese fort, can be seen from the beach and looks captivatingly stunning set into the natural background.
As with many a Goa beach, there are plenty of shacks and huts littered along the beach serving the delectable local cuisine, especially seafood caught fresh in the region and the local liquor delicacies too.
Be careful not to get too carried away on the Port and fall asleep in the sun. The relaxed atmosphere and soothing sounds of the ocean mean you may not wake up for some time.
Why Miramar is one of the best beaches of Goa
This Goan beach is particularly renowned for its wildlife. Precisely, three-quarters of all migratory bird species are thought to gather by this Goan beach to take refuge from harsh winter. They, like the tourists, particularly enjoy feeding on the local seafood and lazing on the beach listening to the sound of the water lapping against the white sand.
Bearing in mind that almost every Goa beach enjoys particularly pleasant weather in the months between October and May it is perfect for the avid bird watcher who also enjoys the luxuries of glorious beaches, delectable local cuisine, friendly local residents and intoxicatingly strong beverages and scenery.
This Goa beach is definitely enjoyed by many people every single year who return regularly. It is one of the best beaches of Goa and favourite to tourists.
11. Palolem Beach – Famous among best Beaches of Goa
How to reach
Palolem Beach is a picturesque beach enclosed by thick coconut palm forests in south Goa. Palolem is undoubtedly the most beautiful beach with shade, and this is the reasons that it has become active with a diverse crowd. Palolem is 76 km from the state capital, Panaji and 43 km from Margao.
The Konkan Railway takes you to the closest railway stations, Margao and Canacona. Canacona to Palolem is ten minutes drive costing around in an auto-rickshaw 50 rupees or $1. The Dabolim airport of Goa is 90 minutes away from Palolem and will cost about 1000 rupees or a little more. Convenient access by train brings tourists frequently.
Best time to visit
aThe tourist season is from October to March. Usually, all the travellers, long term to package tourists, find an apposite place on this beach. However, Palolem beach quieter atmosphere attracts families, and the congregation of backpackers is seen in the south.
Hotels to stay
Above all, the coco huts line the beach and offer more than an essential roof. There are rooms in hotels and guest houses also available. The camps provided on the beach are decent huts, and there are also luxury huts near the beach. It allows visitors always to see the beauty of the beach and waters.
Nevertheless, accommodation is not a significant problem, and everyone can fit into any of the beach huts or other rooms in guest houses or hotels conveniently.
Naughty night-life
The nightlife is vibrant in Palolem, and it is ideal to book accommodations early at Palolem so that they do not end up staying in a small beach hut. This is essential as good places fill up in peak seasons quickly and if you are flexible about staying, you can conveniently settle in any of the beach huts for cheaper.
However, remember to carry mosquito repellent and flashlight, a sweater in case of colder months. Palolem is one of the best beaches of Goa and it has visitors who visits frequently.
12. Vagator Beach
How to reach
Vagator Beach is located 24 km from Panaji, the state capital. This beach offers soft white sands stretch, scenic Arabian Sea views and coconut palms. Vagator beach is famous as other popular beaches are also located nearby such as the Anjuna, Chapora, Calangute and Baga. All these beaches in north Goa form a chain of beaches and are the best tourist attractions. Vagator is also considered one of the best beaches of Goa
Karmali is the railway station that is 11 km from Panaji, the state capital and the Dabolim airport is nearly 40-50kms from Vagator. Coming by road from Mapusa is merely 9 km, and there are frequent buses to Vagator. Reaching by hiring taxis, auto-rickshaws, or motorbikes is also possible.
Why so Special
The Vagator beach is quieter than Baga, Anjuna or Calangute. This is also an ideal beach for swimming as it is safe here. There are local shacks ready to offer the swimming gear and water sports gears. There are local markets selling souvenirs and garments as well.
The back lanes reaching the Ozran beach has restaurants and cafes in many numbers.
Accommodation
Vagator beach does not have many options to accommodate, but Baga and Calangute have excellent accommodation options. Few cottages and guest houses also are available on rents in the nearby areas, but there may be problems of availability during peak seasons.
Things to Enjoy
Chapora Fort is a must-visit place of attraction and the Vagator springs at the foot of a hill is a must-see attraction for the tourists. Chapora village is also an exciting location to know the local life.
However, tourists staying in hotels have a convenient stay, and the hotels plan tours to visit, and their guide explains everything in detail. Fishing on Vagator beach is the main activity, and the beach offers a clear horizon. You can see traditional fishing village and their daily work.
13. Varca Beach
Varca Beach is a must-visit place if you are somewhere near south Goa. This beach is a beautiful quiet beach than all other best beaches of Goa.
The longhouses and palms are dotted adjacent to the beach and make an ideal spot for a relaxing vacation. This is a favoured beach offering incredible scenic beauty and best accommodations.
Varca beach is filled with white sands and dotted with lava rock in jet-black colour. This is equally popular but is quieter than Anjuna beach. Varca Beach is a stretch of 10 km, providing a perfect base for soaking and relaxing in the sun.
Sip of a beer while watching dolphins
The beach shacks provide delicious seafood dishes and tasty fish at reasonable prices. Moreover, Varca houses four and five-star hotels offering the best service and amenities. Varca is one of the best beaches of Goa when we talk about beach-side activities and enjoyment.
Varca beach facilitates spending maximum time on the beach and sailing off watching dolphins. Watching the sun going down and listening to the waves sound lapping against beach sands is one of the best pastimes. This beach has luxurious beach resorts and is a bit pricey, but offers the right combination of amenities and convenience.
Situated in South of Goa, this beach is a charming place and has the best of the beach resorts offering plenty of modern amenities and a relaxed atmosphere. The food joints are many, and the restaurants offer pleasant service and tasty drinks at reasonable rates.
Transportation & Activities
The transportation facilities to move locally are available on hire and are a great way of experiencing a morning cruise. Varca beach is near to Benaulim that has excellent resorts developing offering luxury hotels and beachfront restaurants. The other adjacent beaches are Colva, Mobor and Cavelossim.
Varca also offers exciting and recreational activities. For rejuvenation, hotels and resorts also offer yoga and meditation areas. Eating out is fun, and the accommodations include luxury hotels, budget houses and resorts. The local people even let their homes out to enjoy the way of life. If you love sea beaches, our list of best beaches of Goa will definitely make you Goa tour memorable!
Also Read : Best Places to shop in Seville Spain