Things to do in Kerala while on vacation has a long list. Here we have listed 6 best things to do in Kerala to make your tour more meaningful and enjoyable.
The rapidly growing travel and tourism industry in Kerala, South India is a very natural phenomenon considering the fact that Kerala is a medley of rich cultural heritage, temples, resorts, tour attractions and natural vistas.
In fact, the very thought of Kerala brings to mind images of bunches of coconuts hanging from tall and lush palms, local men in traditional Mundus rowing their boats as the fishermen spread their nets and the waterfowl cackle away to glory.
The clichéd term 'God's Own Country' very aptly describes Kerala and the moment you come to this lovely coastal state you'll be overwhelmed by the rolling hills covered with silky smooth greens, azure tranquil backwaters that seem to entwine Kerala with their long arms, the pure soft beaches and the dense Kerala forests with their wealth of flora and fauna.
More and more people are visiting Kerala as the tourism sector in Kerala, South India is growing at a very fast pace. Feel the Kerala warmth as you travel to this picture pretty emerald country.
With growing awareness about the exotic Kerala locales, more and more people are patronizing Kerala travel. The most popular form of tourism in Kerala, South India are Ayurveda tourism, beach tourism, aqua tourism, hill tourism, culture tourism, adventure tourism, wildlife tourism, Eco-tourism, health tourism and religious tours.
Stay at the numerous hotels and resorts located in different parts of Kerala, South India. These hotels are an integral part of Kerala tourism and offer unmatched facilities that contribute towards making your Kerala stay a happy and memorable one.
Here is the most amazing 6 things to do in Kerala –
1. Kerala Backwaters Tour, South India
A unique gift sandwiched between the Western Ghats and Arabian Sea, backwaters in Kerala is an emerald on its Crown! The lustrous and glistening Kerala backwaters follow a winding course and seem to entwine the entire Kerala with their serene and tranquil arms.
Kerala backwaters form a unique water world complete with a wide variety of exotic water birds like pelicans, cranes to egrets, cormorants and waterfowl. Hire a rice barge and float past the remote Kerala villages and feel the hypnotic Kerala magic working on you as you admire the dense leafy vegetation on the banks of the Kerala backwaters.
There is no other heaven like Kerala, the sheer exuberance of sailing in luxurious languor on the placid and glistening Kerala backwaters as you sail past acres of half-submerged paddy fields with gently swaying coconut palms adding to the exotic appeal of the glittering Kerala backwaters in Kerala, South India.
Popular Destinations :
Beluga Travels is happy to introduce most amazing things to do in Kerala and aid you experience Kerala-"God's own country."
Some of the popular destinations that you visit during your travel to the mesmerizing Kerala backwaters with Kerala Travel Tourism include Alleppey, Kumarakom, Kottayam, Kasargod, Kovalam, Kasargod, Marari and Kollam.
2. Festivals of Kerala
Cultural heritage in Kerala is rich and glorious. It reflects on the vibrant customs, festivals, traditions and faiths of people in Kerala.
Festivals in Kerala, South India are mainly annually celebrated to commemorate religious occasions. Vishu, Asthami Rohini, Thiruvathira, Thrissur Pooram, Pooram Festival and Onam are some popular festivals in Kerala. To participate in festivals is a life time experience things to do in Kerala.
Onam :
Onam of course is amongst the most popular festivals of Kerala, South India and is celebrated with great fervor by all Keralites. Onam is basically a harvest festival that is celebrated during the month of August or September and commemorates the homecoming of the mighty king Mahabali. Onam has been given the status of the national festival of Kerala, South India. Onam is considered to be a great occasion in Kerala for family and social get-together and one of the best things to do in Kerala as a tourist.
Thiruvathira is one of the most important festivals and is especially significant for the women of Kerala, South India, who celebrate this festival to maintain marital bliss and happiness.
Traveling Kerala takes you to emerald of South India so that you can enjoy and live the cultural traditions of these warm people with deep traditional roots. Most of the Kerala festivals are occasions when the men, women, children alike but new clothes, eat, perform rituals and make merry. These festivals are treated as occasions to come together and make social bonds by forgetting any unpleasantness that may have occurred in the past.
3. Kerala Adventure Travel
The perfect travel destination for the intrepid traveler-Kerala with its picture pretty hills, dense forests, beaches and a wide network of backwaters is just right for fun and adventure travel. Kerala adventure travel gives you ample opportunity to indulge in all the adventure desires lying dormant within you.
Adventure Water Sports to Participate in Kerala
Kerala adventure travel can take many forms. You can enjoy several adventure activities such as backwater biking, rafting, mountaineering, parasailing, catamaran sailing, snorkeling, scuba diving, windsurfing, trekking, canoeing, wildlife tours, biking, hiking, other water sports, camping and a lot more.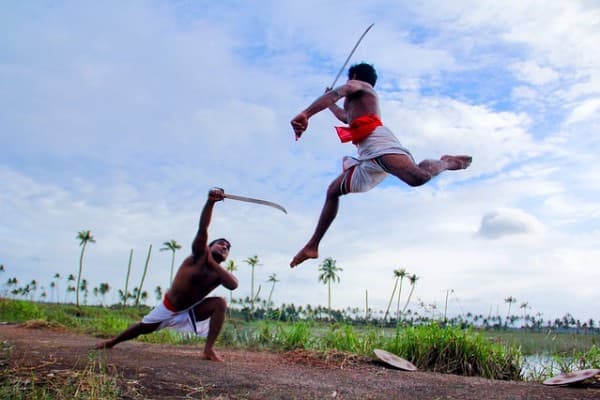 The varied topographical landscape in Kerala that ranges from soft sandy beaches to high hills and dense forests makes it possible for you to enjoy a wide range of adventure activities during your Kerala adventure travel with Kerala Travel Tourism.
Kerala is famous for its annual boat races that take place at designated venues on the Kerala backwaters every year. These boat races entice tourists from far and wide. The large chunduvalloms or racing boats are peculiarly designed and a big enough to accommodate more than 100 oarsmen at a time.
4. Houseboats in Kerala
Houseboats in Kerala offer the most captivating and interesting way of discovering real Kerala in all its natural glory. Taking a ride on houseboat is one of the most loved things to do in Kerala.
What you should not miss
Hire a rice barge or a houseboat and cruise along the twists and turns of the lustrous backwaters and see the best of rural Kerala, South India with Kerala Travel Tourism. Be enthralled as you sail at the same level with half-submerged paddy fields that lie quietly under the swaying coconut palms.
The houseboats in Kerala are special as they are built with coir, wood and natural products. Kerala houseboats are constructed without the use of nails and strangely enough these houseboats if constructed properly last for more then 10 to 12 years at a stretch.
How the houseboats are made :
Kerala houseboats or Kettuvalloms as they are locally called, were used for commercial purposes in the olden days. These houseboats were used to carry large cargos of coconut, coir and other village products. Today these houseboats form an integral part of Kerala tourism and play an important role in showing the best of mist green Kerala to the discerning traveler.
Things to do in Kerala while on a house boat :
Eat a freshly cooked meal onboard your Kerala houseboat, see cormorants and other birds flitting flying overhead, be enchanted at the patterns reflected on the limpid Kerala backwaters as sun-rays play around with tiny ripples created by your houseboat.
All Kerala houseboats are equipped with well-furnished bedrooms, sitting rooms, dining areas, washrooms, open lounge and deck areas. These houseboats are staffed with oarsmen, a cook and a tour guide.
5. Kerala Beaches Travel
Feel raw freedom and pure gaiety untainted with tensions and let nature teach you how to live and be happy on your travel to the stunning Kerala beaches.
The beautiful Kerala coastline boasts of more than 40 beaches that are quite akin to a pretty necklace strung with brilliant diamonds. Kerala beaches in Kerala, South India offer holiday freaks with plenty of opportunities for water sports, sunbathing, romantic walks, beach camping and more.
Amazing things to do in Kerala Beaches
Take a walk on the Kerala beaches, feel the shells crunching under your feet with the soft caress of the sea breeze against your face, and watch the water birds noisily bustling near the Kerala beaches.
Kerala, South India with its 900-kilometre coastline is the perfect holiday destination for enthusiastic beachcombers. Enjoy snorkeling, scuba diving, swimming, beach games, canoeing, catamaran rides, water scooter rides, fishing, and beach lazing on your tours to the stunning Kerala beaches with Beluga Travels.
Intermingle with the soft sands, turquoise blue waters, gracefully dancing coconut trees, and the simple fishermen who live in the coastal villages of Kerala, South India.
6. Kerala Hill Stations
Kerala has some most appealing hill stations in South India and travelling through the hill stations are one of the most memorable things to do in Kerala. The Kerala hill stations seem to be carpeted in different hues of velvety greens generously sprinkled with gurgling waterfalls with the clear blue skies acting as the perfect backdrop with a thin mist that hangs over the Kerala hills and add to their enigmatic beauty.
Be enchanted as you spot wild orchids that seem to explode in the midst of deep greens, feast your eyes on a variety of flowers that sparkle colorfully as they complement the lovely locales.
Popular Hill Stations in Kerala
Among the popular hill stations located in Kerala, South India the ones that are known for their unparalleled beauty are Munnar, Wagamon, Ponmudi, Vythri, Ezhimala, Ranipuram, Lakkidi and Pythal Mala.
Munnar is especially famous for the stunning Neelkurinji flower that blossoms once in twelve years and when it does the Munnar hills seem to be carpeted with different hues of blue and light purple.
Take in breathtaking vistas of neatly clipped tea bushes, fruit orchards, acres of plantations growing spices such as cardamom, cloves, cinnamon, pepper, cashew, curry leaves, ginger, nutmeg, tamarind, vanilla and turmeric keep the cool hill air in the Kerala hill stations perpetually scented.
During your tours to the Kerala hill stations with Kerala Travel Tourism you'll get the perfect opportunity to pamper yourself with herbal oil and Ayurveda massages that in combination with the beautiful surroundings infuse a new life into your mind, body, and soul.
Also Read : Best Mountains to travel in Switzerland